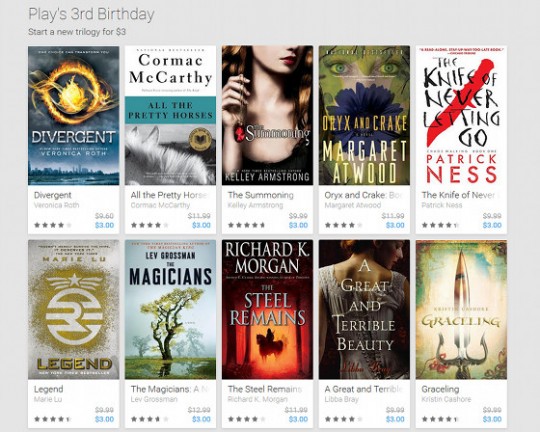 The Google Play Store turned 3 years old last week. To celebrate, Google is running a bunch of deals in the Play Store for ebooks and magazines, as well as music, apps, and movies.
For ebooks, Google's 3rd birthday promotion involves starting a new trilogy for $3. A number of highly-popular titles are included in the list.
The ebooks included in the deal are listed at the bottom of this post.
Like usual, Amazon is price-matching most of them, so if you want the Kindle version instead of Google's ePub then head over to the Kindle Store for the same prices (actually Amazon has them listed at $2.99 instead of $3.00).
Google is also running a deal on select magazine subscriptions with their Get three months for $3 deal.
In another deal not related to their 3rd birthday promotion, Google has a few dozen Dr. Suess apps on sale, which are interactive ebooks for kids.
Here's the link to the main Google Play sale page for Google's birthday promotion, and here's the link to music deals and movie deals as well.
Keep in mind that these deals aren't available in all countries. Also, the deals have been ongoing for almost a week, so they probably won't last much longer (sorry for not posting this sooner).
Google's $3 eBook Deals
Divergent by Veronica Roth
The Magicians by Lev Grossman
The Steel Remains by Richard K. Morgan
The Passage by Justin Cronin
A Great and Terrible Beauty by Libba Bray
The Girl with the Dragon Tattoo by Stieg Larsson
The Knife of Never Letting Go by Patrick Ness
All the Pretty Horses by Cormac McCarthy
Fall of Giants by Ken Follett
The Fellowship of the Ring by J.R.R. Tolkien
The Giver by Lois Lowry
The Maze Runner by James Dashner
Partials by Dan Wells
The Summoning by Kelley Armstrong
Graceling by Kristin Cashore
Foundation by Isaac Asimov
Oryx and Crake by Margaret Atwood
The Good Earth by Pearl S. Buck
Legend by Marie Lu
A Discovery of Witches by Deborah Harkness
Matched by Ally Condie
Shatter Me by Tahereh Mafi
Shiver by Maggie Stiefvater
Deep in the Valley by Robyn Carr
Under the Never Sky by Veronica Rossi
Delirium by Lauren Oliver
Barefoot Season by Susan Mallery
The Bronze Horseman by Paullina Simons
Abandon by Meg Cabot
The Selection by Keira Cass
Bared to You by Sylvia Day