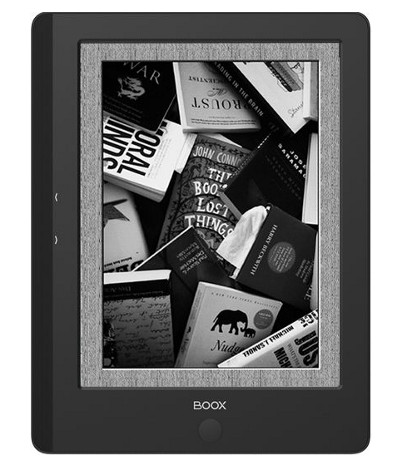 The elusive and perpetually postponed Onyx Boox i86 that was announced last year is being sold on eBay out of Texas for $249 plus $10.80 for shipping.
It's rather odd to suddenly find this model for sale online in the United States since the other main retailers that sell Onyx devices aren't even selling it.
But the eBay listing appears to be legit. The seller has good feedback, although not much. The previous listing did show that 4 units had been sold, so with no negative feedback that's a positive sign.
Right now 3 units are listed as being available. It makes you wonder if this is a one time thing or if the seller will be getting more in to sell.
As for specs, the Onyx Boox i86 has some good things and some not so good. It has 4GB of storage space, a 1GHz Cortex-A9 processor, 512MB of RAM, a 3.5mm headphone jack, Wi-Fi, Bluetooth 4.0, and a microSD card slot.
The main drawback for the price is there is no frontlight. But the i86 is one of only a few options for an 8-inch ebook reader, and it features a 1600 x 1200 resolution E Ink screen.
Like the Onyx Boox M96 and T68, the i86 runs Android 4.0. There is no indication that it comes with Google Play, however, so the device likely has to be rooted to add that on your own.
The i86 has an infrared touchscreen, which is probably a good thing considering Onyx's history with capacitive touchscreens having a tendency of not being as responsive as they should.
It's hard to tell from the picture rendering above, but there are page buttons on the left side of the display, and a button below the screen. The listing also states that the device comes with text-to-speech pre-installed.
The Onyx Boox i86 is also listed on Amazon.com but it's currently unavailable. The product page shows that it was first made available on February 20th, but there is no mention of a return date.
Personally I have no desire to review a fourth Onyx ereader in eight months so I'm going to pass on this one, but if anyone happens to pick one up let us know what you think of it in the comments section.
Onyx Boox i86 Specs
8" inch E Ink Pearl display.
1600 x 1200 pixel resolution (250 dpi).
Infrared touchscreen.
Android 4.0 operating system.
Processor: Cortex A9 1.0 GHz.
512 MB RAM.
4GB internal storage space.
MicroSD card slot (up to 32GB).
Mini USB 2.0.
3.5mm headphone jack.
Wi-Fi (802.11b/g).
Bluetooth 4.0.
Battery: 1700mAh LI-ION Polymer Battery, lasts up to 2 weeks per charge.
Supported ebook formats: PDF, TXT, HTML, EPUB, CHM, PDB, MOBI (Non-DRM), FB2, DJVU
Dimensions: 210 x 160 x 9mm.
Weight: 340 grams.