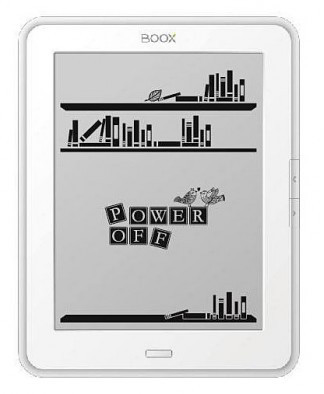 Onyx International has some ambitious plans for 2014. They just released the Boox i63ML Newton with a 6-inch E Ink Carta display and Android 2.3. Onyx also demoed the Boox T68 and M96 ebook readers at the Hong Kong Electronics Fair earlier this month—they both run Android 4.0 and have 6.8-inch and 9.7-inch screen respectively.
As it turns out, Onyx also has an 8-inch model in the works. It runs Android 4.0 too, and will likely come with Google Play like the T68 and M96.
Even more interesting, the Onyx Boox i86 is going to have a 1600 x 1200 resolution E Ink screen, likely the monochrome version of Triton 2—that's the same setup as the PocketBook InkPad 840 that was just announced, but the Onyx runs Android instead of Linux so that makes it a little more interesting than the PocketBook.
Other specs for the Onyx Boox i86 include a Cortex-A9 1GHz processor with 512MB of RAM, 4GB of internal storage, and it has a microSD card slot for cards up to 32GB. It also has an infrared touchscreen that supports 2 points of touch, a frontlight, Wi-Fi and Bluetooth. There's also a 3.5mm headphone jack for listening to music and text-to-speech.
It's fairly safe to assume that it will support the same ebook formats as Onyx's other ereaders. That includes Adobe DRM support for ePub and PDF, as well as DRM-free ePub, PDF, TXT, DJVU, HTML, RTF, FB2, DOC, MOBI, CHM, PDB.
There's no product page for the Onyx Boox i86 yet, and Onyx has yet to make an official announcement, so it's unclear when it will be released. There's just this picture of the tech specs on Facebook. Stay tuned to The eBook Reader Blog for updates.