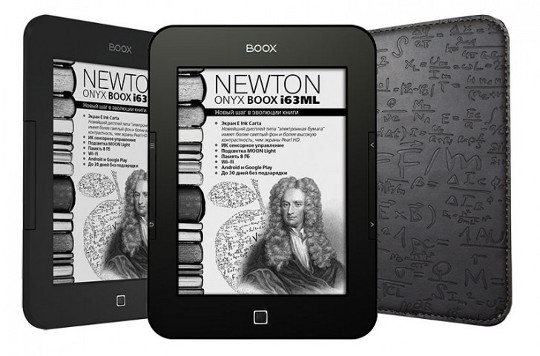 Onyx International has announced the release of a new ebook reader for the Russian market called the Onyx Boox i63ML Newton.
It has a 6-inch 1024 x 758 resolution display and is now the third ebook reader behind the Kindle Paperwhite 2 and Tolino Vision to use the latest screen technology from E Ink, called Carta.
E Ink claims that Carta displays have 50% better contrast than previous generation Pearl screens. When comparing the screens side-by-side it's hard to see that much of a difference, but it's an improvement nonetheless. Frontlights tend to degrade contrast some so it's hard to tell from the Kindle Paperwhite. This new Onyx ereader includes a frontlight as well. They call it a Moon Light.
The Onyx i63ML Newton also boasts an open Android operating system. It runs Android 2.3.1 and even includes Google Play access to download and install apps. Most apps aren't optimized for E Ink ereaders so not all will function properly, but most reading-based apps should work well enough to use. I've always been surprised by how many Android apps work on a hacked Nook Touch, even ones that you wouldn't suspect to work well, like Google Maps and some video games.
Other specs for the i63ML Newton include a 1GHz processor, 512MB of RAM, and it includes 8GB of memory, as well as a microSD card slot. It has Wi-Fi and a 1600 mAh battery that provides up to one month of battery life. It measures 171 x 124.8 x 10.9 mm and weighs 238 grams.
The device has an infrared touchscreen that supports multi-touch, and it comes with built-in pre-Anglo-Russian and Russian-English ABBYY Lingvo dictionaries. The Onyx i63ML Newton also comes with a sleep cover that automatically turns the device on and off when opening and closing the cover.
The Onyx i63ML Newton comes in two color options, black and dark gray metallic, and sells for a suggested retail price of 6990 rubles in Russia, which equates to about $200 US dollars.
via: The eBook