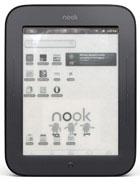 The Nook Touch is the most versatile E Ink ebook reader ever created thanks to its hackable Android operating system. A surprising number of Android apps work exceptionally well on a rooted Nook Touch, including several ereading apps.
Below is a list of apps that I've personally gotten to work on a rooted Nook Touch. Some are shown in action in the YouTube video reviews I've posted previously here and here and here.
There's also another list of working apps that others have tested over at XDA. Please feel free to add your own app testing results in the comments section below.
Nook Touch Working Apps List
eReading Apps
Aldiko 2.0 – Works very well, one of the best ereading apps on the Nook Touch. Can read Adobe DRM ebooks, including library ebooks downloaded with the OverDrive app.
Kindle – The Kindle app works well. The only downside is that there's extra black flashing when turning pages because the animated page-turns can be turned off.
Nook – The Nook Android app works okay. It's rather slow at times. The main benefit it adds over the Nook's base reading app is landscape mode.
Kobo – The Kobo app is buggy. Sometimes it works and other times it doesn't.
OverDrive – With this app you can use a web browser (Opera) to browse and download ebooks from the library directly to the Nook Touch.
Google eBooks – This app works and has more features than the built-in app for the iriver Story HD.
Beam Reader – A paid PDF app with basic features.
ezPDF Reader – This is the best PDF app for the Nook Touch that I've tested. The one downside is excessive screen flashing.
Moon+Reader
Cool Reader
FBReader
Mantano Reader
News Apps
Google Reader – This apps seems to work most of the time. Occasionally it force closes when trying to load an article.
CNN – Works really well as long as you don't mind reading white text on a black background. Page buttons work for scrolling pages.
New York Times – Top news stories works, other sections require a subscriptions. The apps seems to work well but has very small text and scrolling can be a little awkward.
Fox News – This app works pretty well for the most part, scrolling can be tricky at times.
Engadget
NewsRob
News and Weather
More Apps
Dropbox – Works great for wirelessly transferring files.
Amazon Appstore – Ironically this app works great on the Nook Touch. Sometimes a download won't work at first but it will if you keep trying.
Opera Mobile and Opera Mini Web Browsers
Launcher Pro
Google Docs
Google Maps – This app works better than you would think. Street View and Satellite View even work.
Android Market
Gmail
ColorNote
Calculator
Astro File Manager
Button Savior
Go Launcher EX
Jota Text Editor
Nook Color Tools
Superuser
Advanced Task Killer
Evernote