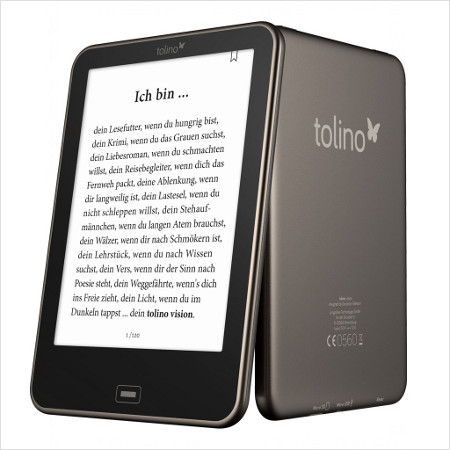 The second ebook reader to use E Ink's latest screen technology, called Carta, just launched in Germany this week.
The device is called the Tolino Vision, and is a follow-up to Tolino's first ereader, the Tolino Shine. It will be officially released on April 5th for the price of 129 euros, and will sell from a number of German retailers.
Like the Kindle Paperwhite 2, the Tolino Vision has a 6-inch 1024 x 758 resolution E Ink Carta screen. Unlike the Kindle, the Tolino supports ePub format, in addition to PDF and TXT formats. And it runs Android, albeit a closed version of such (it will likely get hacked like the previous model, which can be run on Kobo ereaders, oddly enough).
Other pertinent specs for the Tolino Vision include a frontlight, capacitive touchscreen, WiFi, it has a 1GHz Freescale i.MX6 CPU, 512 MB of RAM, there's 2GB of internal storage, and a microSD card slot. Battery life is estimated at up to 7 weeks.
The Tolino Vision reminds me a lot of the Kobo Aura. It has a really thin tablet-like design and has a flush screen. It looks good, quite sleek. The overall measurements are very similar between the two devices too. The Tolino Vision is a little taller than the Kobo Aura at 163mm, but they are they exact same width and thickness (114 x 8.1mm). The Tolino Vision weighs 4 grams more at 178 grams.
Tolino Vision Video
Tolino Vision (German)