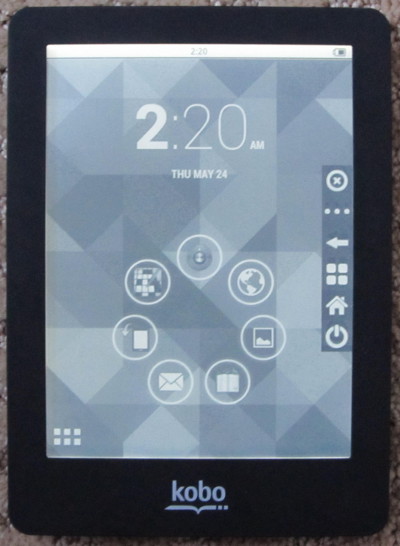 Lately I've been keeping an eye on the Android on Kobo: "Tips and Apps" thread at MobileRead for interesting tidbits for running Android on Kobo's ebook readers.
A couple days ago a new dual-boot hack has come to light that makes it possible to run Android off an external microSD card instead of having to take apart the Kobo device and replacing the internal microSD card. This makes things a lot easier and gives you the option to choose to boot Android or the stock Kobo operating system when powering the device on.
Directions on how to setup the dual-boot card can be found over on Angor's blog, along with the download files.
The initial setup is more involved than creating an internal Android card, which I just happened to finally get around to trying last week on the Kobo Glo. The process was way easier than I thought it would be, and only took about 5 minutes. But in taking the back off the Kobo Glo to change out the memory cards I somehow broke the power slider so now I have to use the reset button or plug it in to turn the device on, which a major pain. At least with these new dual-boot cards that is no longer a risk. Guess I should have waited one more week to get Android on my Kobo Glo…
The dual boot hack was first done on the Kobo Aura HD, but Angor has posted patches and images for the Kobo Glo and Kobo Touch as well. Unfortunately the Kobo Aura doesn't get in on the Android fun because it has incompatible hardware.
The reason it works on the Aura HD, Touch and Glo is because the hardware is the same as the Tolino Shine, an ebook reader out of Germany that runs Android. Developers have figured out how to root it and then transfer the software over to Kobo's ereaders. So when you are running Android on a Kobo, it's actually using a modified version of Tolino's software. The OS is Android 2.3.4.
I plan on trying this dual boot card on the Aura HD when I get some time. I'll put together an article and video showing the results. I also plan on posting more about running Android off the internal card on my Kobo Glo at some point.