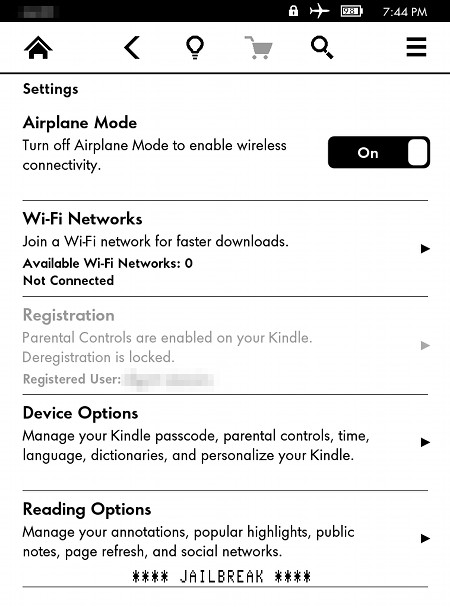 There's always been a number of custom hacks and tweaks for jailbroken Kindle ereaders (like screensaver and font hacks), but ever since Amazon released their latest line of Kindles last fall, jailbreaking has become pretty much impossible.
Amazon has gone to great lengths to block any kind of hacking to the Kindle Voyage, the entry-level Kindle (Amazon refers to it as the 7th gen Kindle), and Kindle Paperwhite 2.
The Kindle Paperwhite used to be part of the jailbreaking fun, but now the only way to jailbreak it is if you happen to get lucky and find one with older firmware installed.
Jailbreaking has come to a complete stop ever since Amazon released firmware version 5.6.0 for the Voyage, Paperwhite, and $79 Kindle.
If your Kindle is running older software from 5.0 to 5.4.4.2 you can still jailbreak it, but make sure it doesn't auto-update beforehand. Then use the BackDoor Lock hack to prevent updates.
If you have a jailbroken Kindle Paperwhite 2, the 5.6.x update will mess things up, but the device will still remain jailbroken. You'll just have to set most things up again.
Amazon attempting to thwart making modifications to Kindles is nothing new. But this time they apparently have gotten really good at it. Usually someone finds a workaround eventually, but it's been many months and still nothing has come up other than a complicated serial port hack that's too advanced for most advanced users.
Kindle Serial Port Hack
So far the only way to jailbreak a newer Kindle running firmware 5.6.x is to take the device apart, connect a serial cable, get the password, install USBnetworking snapshot, and go from there. Yeah, piece of cake.
Here are the directions at MobileRead: How-to obtain root access of New Basic Kindle (2014) FW5.6.0.1.
How to Block Updates
If you still have a jailbroken Kindle Paperwhite 2 with older firmware, you might want to block updates from happening to avoid the 5.6.x software. See the Kindle BackDoorLock hack for directions.