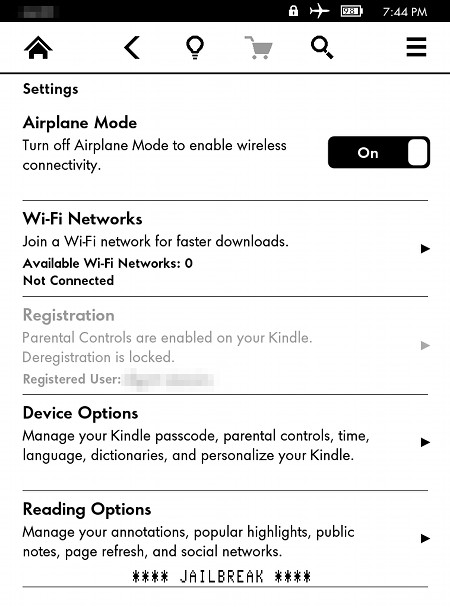 Last week an easy jailbreaking method for the Kindle Paperwhite 2 surfaced over on MobileRead. The script has since been updated and now works as part of the jailbreak package for the Kindle Touch and Kindle Paperwhite 1.
The jailbreak is even compatible with the new 5.4.2 software update that Amazon issued early last week, which is surprising.
The download and directions for the jailbreak package can be found on this thread at MobileRead.
Personally I've never jailbroken an E Ink Kindle before. I can root and install custom ROMs on an Android-powered Kindle Fire tablet with no problems, and I've hacked the Sony PRS-T1 and Nook Touch ebook readers repeatedly, which also run Android, but I've never hacked a Linux-driven E Ink Kindle before.
The main crux is that it's often hard to follow what the developers are talking about without having any programming knowledge or understanding of the vernacular.
The reason I came across the jailbreak package for the Paperwhite 2 is I was trying to find some info about using alternate fonts on the Paperwhite 2. I really like the new Kindle but I hate the fonts, and miss being able to sideload alternate fonts like the original Paperwhite allowed.
I thought maybe jailbreaking the Kindle Paperwhite 2 could enable that to work again, but I have yet to determine that or not. Not being a developer, I'm not sure exactly what goodies jailbreaking the Paperwhite 2 unlocks. There's a thread at MobileRead discussing compatible apps and tools with the Paperwhite 2, and the font hack is mentioned, but right now the developer is advising not to try it yet until further testing is done.
Once the font hack is confirmed as working I might have to give the jailbreak package a try. It seems kind of ridiculous that a person has to jailbreak a device just to be able to use the fonts they want. But you know Amazon, they don't like allowing users to have any kind of customization options whatsoever. It's their Kindle, after all. Not yours.