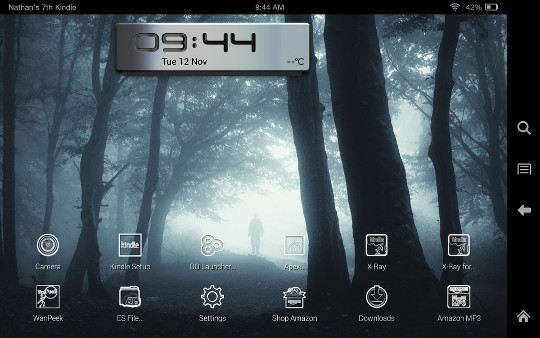 Amazon's Kindle Fire HDX tablets come with software based on Google's Android 4.2 operating system. But you would never know it by using the HDX tablets because Amazon has customized the software in a number of ways to better reflect their products and services instead of Google's.
The software for the HDX tablets is called Fire OS 3.0 "Mojito".
The irony about all the customizations that Amazon has made to the software is that they give Kindle Fire tablet users absolutely no form of customization whatsoever, except for personalized covers and skins, of course, but that's entirely different.
From a software standpoint, every Kindle Fire on the planet has the exact same look-and-feel, the same exact homescreen, the same exact carousel and favorite's menu setup.
In fact the Kindle Fire HDX and earlier models are the only tablets I can think of currently on the market that offer no user-customizable options at all. No wallpapers. No lockscreen images. No folders. No widgets. You can't even control what types of content appears on the homescreen. Everything's all just thrown into one big carousel of images whether you want it or not.
Installing an alternate launcher is one way to avoid having to use Amazon's homescreen. Alternate launchers can give the Kindle Fire tablets more of a true Android tablet look-and-feel.
The only problem with alternate launchers is that Amazon made it so wallpapers no longer work on the Kindle Fire HD after a software update, and unfortunately it's the same story with the Kindle Fire HDX.
I've tried installing a half dozen different launchers—Nova, Apex, ADW, Go Launcher EX, etc—and it's the same story over and over again. The launchers install and work, and unlike previous Kindle Fires you can set them as the default so pressing the home button bypasses the Kindle homescreen entirely. But most widgets don't work. Neither do wallpapers. All you are left with is a black background of eternal nothingness—and that's about the most unimaginative, un-customized thing you can get.
I did some searching over at the XDA forums and heard that the wallpapers with Vire Launcher work. I gave Vire Launcher a try and it is indeed the only alternate launcher that I've come across that actually has working wallpapers instead of black nothingness. The downside is that the app icons with Vire Launcher aren't very attractive. The paid version apparently had customizable icons, but I don't know to what degree and I'm not going to buy it to find out.
The bottom line is the Kindle Fire HDX makes for a poor tablet for users looking for any form of customization. You've pretty much got to like what Amazon gives you out of the box because alternate launchers and wallpapers aren't an effective solution for this model like they were with the original Kindle Fire.
Nevertheless, if you got a Kindle Fire HDX (or earlier Fire) and you want to try some alternate launchers to see how they compare to the stock interface here's how to do so:
How to Install Alternate Launchers on Kindle Fire HDX
First and foremost, you have to open the Kindle Fire HDX's settings menu, then select applications from the list, and turn on the setting to allow apps from unknown sources.
Next, you're going to need to use some alternate appstore or go to the app developers website to download the launcher apps since Amazon doesn't allow any to appear when shopping the Amazon appstore from a Kindle Fire. Here are some of the ones mentioned above in this article:
Vire Launcher (you have to install 1Mobile's annoying app to be able to download this app, but then you can uninstall it afterward if you want; you can also use it to install a bunch of other launchers too).
Nova Launcher (use direct apk download link).
If you used the Kindle Fire HDX's web browser to download the apk file directly, Amazon doesn't make it easy to find so you're likely going to have to go the Amazon appstore and download and install ES File Explorer. Open ES File Explorer and then open the download folder. Now you can tap on the app file to install it.
Tip: Once the alternate launcher of your choice is installed, you can set it as the default when asked after pressing the homescreen. To undo that change you can uninstall the app by going to settings, applications, manage all applications, then select the launcher app from the list and choose to uninstall, or you can scroll down on the same screen and select to clear defaults.