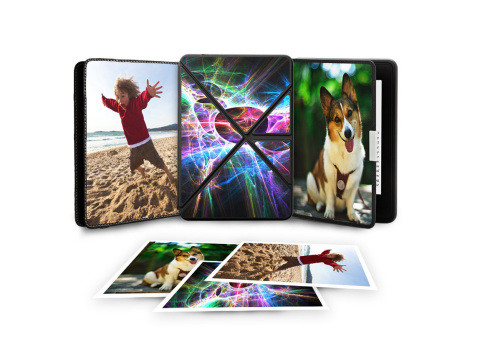 Amazon is rolling out a new service today for Kindle accessories that enables customers to create personalized Kindle covers and skins. And the best part is it doesn't add any additional cost.
You can upload your own photographs and images to use, or select from a library of existing images and patterns, including designs made exclusively for Amazon's new Origami covers.
The custom Kindle covers and skins are available for the new Kindle Fire HDX tablets, the Kindle Fire HD tablets, Kindle Touch and Kindle Paperwhite. Oddly the basic Kindle isn't included on the list; perhaps more Kindle models will get added in time.
Currently the custom designs are being offered on Amazon's Origami covers, skins through DecalGirl, and a few covers from Marware.
The skins range in price from $17-$20, and the covers are $30-$50.
Once selecting a cover or skin from the list, you can start customizing it from the product description page. The customization option opens a window where you can choose from a library of images or upload your own. Then you get to see a preview of what the design or photo will look like on the device.
With skins you have the option to place the design on the back only, or the front and back. With covers you have the option to put the design on the front, the back, or both. The price is the same either way.
It's good to see Amazon giving customers at least one way to customize their Kindles since they don't allow any customization whatsoever on the devices themselves. No access to lockscreen images, or homescreen images. No variable color schemes. Nothing.