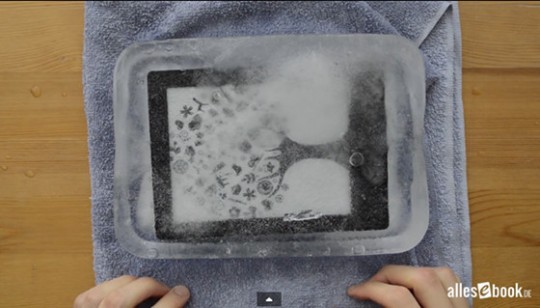 A few days ago I posted about how a Ukrainian tech site recently tested the PocketBook Aqua ebook reader to see if it could withstand being frozen in a block of ice.
The device showed no ill effects whatsoever after being thawed out, and it turns out the same can be said for the IP67-certified Kobo Aura H2O as well.
A German ebook website, Allesebook.de, conducted a similar deep-freeze experiment with the Kobo Aura H2O.
The device was submerged in a tub of water and placed in a freezer for 16 hours to create a solid block of ice with the waterproof Kobo Aura H2O inside.
After a few hours of letting the ice thaw out at room temperature (the process has to be slow in order to not break the E Ink's glass substrate), the Kobo ereader works just as good as before being frozen.
Notably the battery charge took a pretty big hit at that extreme of a temperature, dropping 17 percent while in sleep mode throughout the ordeal.
It's pretty cool that the Kobo Aura H2O and PocketBook Aqua can survive being subjected to such extreme conditions. You can accidentally drop them into a lake or leave them outside overnight in a snow drift and they'll still continue working just the same. Not very many mobile devices are that durable.
Kobo Aura H2O in Ice