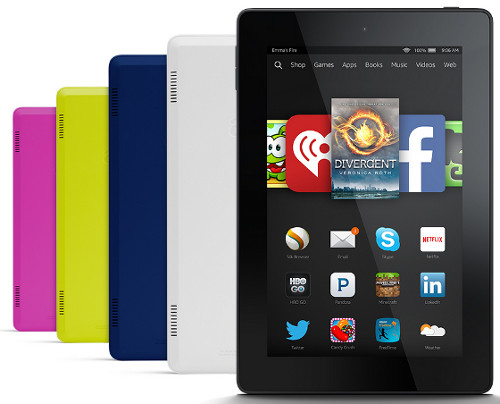 Today only, April 20th, Amazon's main Deal of the Day is the Fire HD 7 tablet for $60 off what it regularly costs.
That drops the price of the 8GB model from $139 to just $79, and the 16GB model from $159 to $99. Those prices are for the ad-supported models; add an extra $15 to remove the sponsored screensavers.
The Fire HD 7 is among Amazon's latest line of Fire tablets.
It's basically the exact same device as the Fire HD 6, but it has a larger 7-inch display instead of 6-inch. Here's my Fire HD 6 review from back in October to get an idea of what kind of features and hardware Amazon's tablets offer.
Fire tablets run Android but they don't support Google Play so they don't have access to as many apps and the software is less customizable than regular Android tablets. But Fire tablets have some advantages for Amazon's services, like X-Ray for movies and music, text-to-speech for Kindle ebooks, etc. And for $79 the hardware is a lot better than any other tablets in that price range.
$12 Fire HD 7 Covers
To go along with the Fire HD 7 sale, Amazon has a number of cases for the HD 7 marked down to $11.99, which is 40%-56% off the regular price. The deal is for April 20th only.
Fire HD 7 Accessories for $11.99
Kindle eBook Sales
Amazon also has a few ongoing Kindle ebook promotions. Unlike the above deals, these deals last longer than one day.
50 Kindle Book Deals for $2 Each – Ends May 1st
Select Best Sellers for $2.99 Each – Ends May 1st
30 Kids' Books, $1.99 Each – Ends May 1st
100 Kindle Romances for $199 or less – Ends May 18th