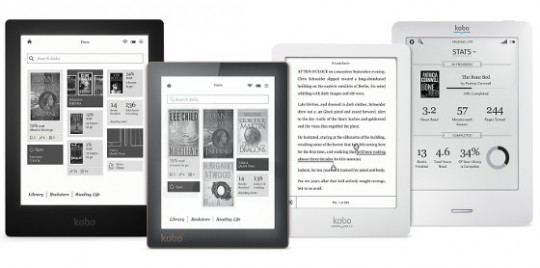 Ever since Kobo decided to stop selling their ebook readers in the United States from major retail stores a few years back, it's been a lot harder to obtain Kobo's devices without a trip to Canada.
There are only a couple of ways to buy Kobo ereaders in the US. In this article I'll explain the best way to go and how the process works.
Also, as a bonus I'll tell you how you can get a new Kobo Glo HD for approximately $100 USD.
Yeah, you read that right. You can get a Glo HD for half the price of a Kindle Voyage, and it comes with the same exact 300 ppi E Ink screen. All you have to do is use Visa Checkout to get 20% off at Chapters.Indigo (the deal expires May 31st, 2015, and works with Kobo's other ereaders as well).
Since Kobo's ereaders aren't sold in retail stores in the US, you can't try them out in stores before buying like Kindles. You have to order online sight unseen and hope everything turns out well, and if there's a problem with a device, returning or exchanging it is going to be a headache.
You can't just login to your account and print out a return shipping label in under 2 minutes like you can when returning a Kindle to Amazon. You'll have to contact Kobo and go through a long drawn-out process, and you'll have to pay return shipping to send it back to Canada—be aware of this before ordering.
So here are the different ways to order Kobo ereaders in the US:
Chapters.Indigo
The best place to order a Kobo device is from the Chapters.Indigo website. They are based in Canada but ship to the US, and their shipping is very fast.
They'll try to scare you off with an estimated delivery date a couple weeks away but it really only takes 2-5 days. The package will arrive through the USPS and you will have to sign for the package, so if no one is home to sign you'll have to pick it up from the post office.
Chapters will send a shipping notice when the device ships, but they don't send a tracking number. You have to contact them to get one.
Chapters charges in Canadian dollars, so with the US dollar as strong as it is right now, the price comes out less, even with international shipping to the US. For instance, the Kobo Glo HD costs $129. But after adding shipping and converting the price to USD, the total is around $120 USD, give or take a few bucks depending on the current exchange rate. That's without the 20% Visa Checkout discount mentioned above.
Most credit cards charge a foreign transaction fee, so be aware of that. It's usually only a few bucks. You can avoid it by using PayPal.
If you use PayPal, make sure to enter your address on the Indigo website before choosing to checkout using PayPal. Speaking from experience, for some reason it will give an address error and won't let you finish the order if you just go straight to PayPal.
Kobo.com
Aside from Chapters, which isn't even an official US supplier, Kobo.com is pretty much the only other place to order Kobo ereaders in the US.
I've ordered from them in the past and wasn't impressed. They don't tell you what carrier ships it, you don't get notified when it ships, you don't get a tracking number or an estimated delivery date. You'd think that a company owned by a major online retailer would have basic things like shipping info worked out.
Kobo just started using a new ereader store powered by Shopify, so things may have changed.
Kobo used to charge in US dollars, but now I'm not sure anymore, as some have reported being charged in Canadian dollars when ordering the Glo HD. Shipping is free to the US. Past orders were delivered by the post office, and no signature was required (not sure how things currently operate).
3rd Party Online Retailers
You can also find Kobo devices on third party stores like Amazon and eBay. They are often more expensive than buying from Chapters or Kobo directly, however. For instance, the Kobo Glo HD is already available on eBay, but it's $10 over retail and you also have to pay almost $10 more for shipping.
Indie Bookstores
Kobo sells their devices from a couple independent bookstores in the US, so if you happen to have one nearby, you can call and see if they have any in stock, but don't get your hopes up because very, very few places carry them anymore. Here's the link to the Indie Store Locator at Kobo.