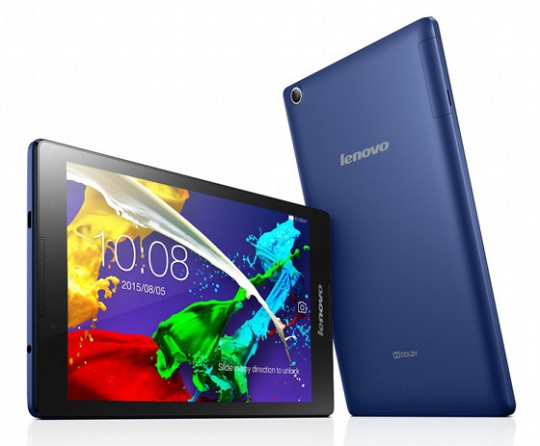 A couple weeks ago I posted about some interesting new tablets from Lenovo that were recently added to their A series lineup, the Lenovo Tab 2 A10, A8 and A7 tablets.
They appear to be good value picks on paper, especially the 10-inch A10 model for $199 with its high resolution 1920 x 1200 resolution screen. And the 7-inch A7-30 model is already down $10 to $89.
I was holding out for the 8-inch A8 model—it's the only one that hasn't been released yet—but sadly it's not what I was expecting.
The Lenovo Tab 2 A8 is now listed on Amazon for $129, which is a good price but unfortunately it doesn't ship for a few more weeks. But that's not the bad news…
The problem is we were expecting the Lenovo Tab 2 A8 to have a 1920 x 1200 resolution screen like the 10-inch model, because that's what it says on Lenovo's website, but it turns out that's most likely a typo.
The listing at Amazon, as well as a listing at B&H Photo, both show the Lenovo Tab 2 A8 as having a 1280 x 800 resolution display. Given the price of $129, that does seem a lot more likely. An 8-inch 1920 x 1200 resolution screen would have been nice, though.
There's a slight chance the new listings could be wrong, or maybe there are two different A8 models, but I wouldn't count on it. I tried contacting Lenovo support for clarification but like most customer support reps they don't have any idea what's going on or what day it is or if the Earth is flat or round.
Even with the lower resolution screen, the specs for the Lenovo Tab 2 A8 are pretty good considering the $129 price. It has 16GB of onboard storage space, 1GB of RAM, a microSD card slot, a 1.3 GHz 32-Bit quad-core processor, Wi-Fi, Bluetooth 4.0, a 5.0 MP rear camera, 2.0 MP front camera, GPS, headphone jack, and 8 hour battery life.
The B&H listing says it runs Android 5.0 Lollipop. The other Tab 2 A series tablets currently come with Android 4.4 KitKat and are supposed to be upgraded to Android 5.0 this summer. By the time the Tab 2 A8 gets released the Android 5.0 update will probably already be available.
Too bad the Tab 2 A8 doesn't have the 1920 x 1200 screen; that would have been really good for ereading. It looks like the Tab 2 A10 is the best one to go with after all.