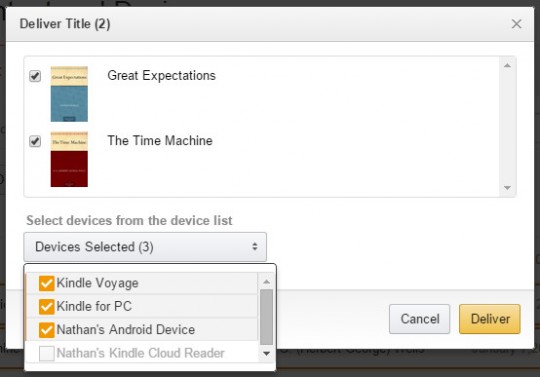 One of the cool things about Kindle ebooks is that you can choose which Kindle device or Kindle app you want to send the ebook to directly from the product page when making a purchase.
You can also set things up so that Amazon will always automatically deliver new ebooks to a specific Kindle device or app.
Additionally, Amazon recently enabled the option to send Kindle books to multiple devices and apps from the MYCD page on your Kindle account.
The way to use these features is to login to your Amazon account and go to the Manage Your Content and Devices page.
You can set a default Kindle or Kindle reading app in the "Your Devices" section. This makes it so the default device will get ebooks delivered to it automatically and show as the first option for the "Deliver to" drop-down menu on Kindle book pages.
To deliver an ebook to multiple Kindle ereaders, Fire tablets, and Kindle apps all at once, simply select the Actions button from the "Your Content" section and select Deliver to choose what devices/apps to send the book to; you can also select multiple books and send them all at once.
Note that some ebooks can only be read on up to six devices or apps at one time, as part of DRM restrictions. If you encounter this problem you have to delete a copy from one device before being able to read it on another.