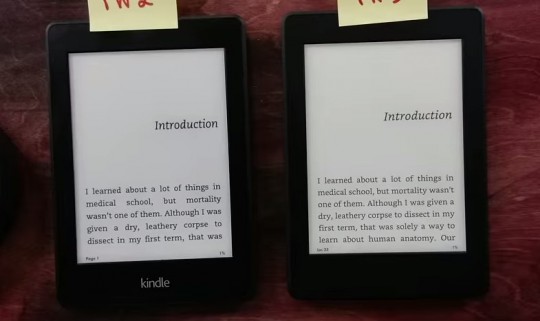 Amazon announced a new upgraded Kindle Paperwhite the other day that will be released at the end of this month. It's basically the exact same as the old Kindle Paperwhite but it adds a higher resolution 300 ppi E Ink screen to help make text appear sharper and clearer.
Len Edgerly from The Kindle Chronicles has already uploaded a YouTube video that compares the new Kindle Paperwhite 3 with the 2nd generation Paperwhite as well as the Kindle Voyage.
I'll be uploading detailed reviews and some comparisons between the new Paperwhite, the Kindle Voyage, and Kobo Aura HD in a couple of weeks, so stay tuned for those.
But I don't have a Paperwhite 2 anymore (there's no point with the Voyage on hand), so it's good to see Len doing a comparison between the two.
Unfortunately the frontlights aren't compared at all in the video, but you can see the difference in text with the upgraded 300 ppi display, and a slight difference in background color.
Len shows us how to tell the difference between the Kindle Paperwhite 3 and the 2nd gen model, so if you happen to see one in stores or used and you want to know what model it is this is how to tell:
Determining the Paperwhite's Generation
1. The Kindle Paperwhite 1 has a "Kindle" logo on the back.
2. Both the Paperwhite 2 and 3 say "Amazon" on the back.
3. The 2nd gen Paperwhite has a lighter "Kindle" logo on the front and a darker "Amazon" logo on the back.
4. The "Kindle" logo on the front of the 3rd gen Paperwhite is blacked out and blends in with the bezel, and the "Amazon" logo on the back is indented with no added black color like on the 2nd gen model.
Is the New Kindle Paperwhite 3 for You?
Subscribe to The eBook Reader Blog to keep updated on reviews, comparisons, and tutorials for the new Kindle Paperwhite 3.