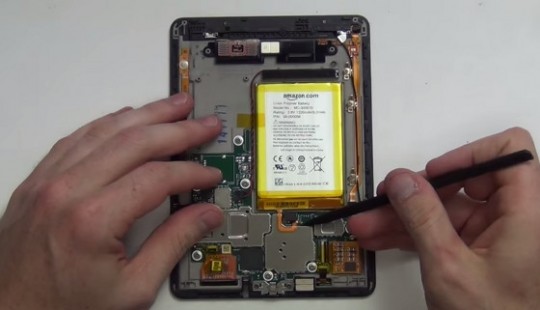 The other day I came across a YouTube video that shows how to easily disassemble the Kindle Voyage. It only takes a couple of minutes and is surprisingly easy compared to some other devices out there.
Of course taking apart your Kindle Voyage is going to void the warranty, but it's currently the only way to gain root access.
Ever since Amazon released the Kindle Voyage and new entry-level Kindle, they've been blocked from all jailbreaking and hacking.
There used to be a very active development community for Kindle ereaders with all kinds of hacks and mods available, but unless you have an older Kindle those are pretty much all gone now.
The only way to root newer Kindles running firmware 5.6.x and newer is to take them apart and use the serial root method, which is more than most people want to do to hack their Kindle. But it is possible for those willing.
The Kindle Voyage is easier to take apart than I thought it would be, considering the unique design. Once you pry the plastic piece off the top of the back it's pretty smooth sailing. After that you just have to remove four screws and the back pops right off.
Along with the video below, here are some helpful guides at MobileRead with more info about how to serial root newer Kindles:
Kindle Voyage Teardown / Root – The 7th picture shows exactly where to solder the wires. And further down the page it shows how to do it without soldering.
How-to Obtain Root Access – A step-by-step guide for the basic Kindle, which is the same process as the Voyage and Paperwhite 2.
How to jailbreak 5.6.x (serial port) step by step – More instructions and commentary about jailbreaking Kindles via the serial port.
How to Take Apart the Kindle Voyage