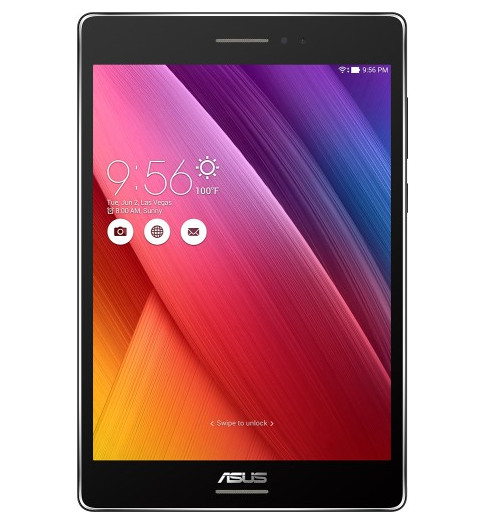 Asus has just released a new upper mid-range 8-inch tablet called the Asus ZenPad S 8. It has a good specs to dollars ratio, as well a really high resolution screen great for all forms of ereading.
The ZenPad 8 has a similar screen as the Retina iPad Mini. It's a 4:3 ratio 8-inch screen with a resolution of 2048 x 1536, which equates to 320 pixels per inch.
The tablet also comes with an impressive amount of storage space, with 32GB onboard, and there's a microSD card slot that supports cards up to 128GB.
Best Buy seems to have gotten an advanced shipment of the Asus ZenPad 8, as they are the only place that currently has any in stock, while other websites list it as coming soon with an expected arrival date in August.
The listed retail price is $199, which isn't bad but it's not great considering you could get the 10″ Lenovo Tab 2 A10 for $199, which also has a nice screen and upper mid-level specs but with lower 224 ppi.
Once the ZenPad 8 goes on sale it will be pretty hard to pass up. There have been very few options for an 8-inch tablet under $200 with a respectable high resolution screen. Almost all have 1280 x 800 or lower resolution screens. 2048 x 1536 is a huge difference when it comes to text clarity and overall screen quality.
Some of the specs differ from Best Buy's website and what's on Asus's website for the ZenPad 8. For example, the cameras are listed as 5 and 8 MP on Asus's website, and 2 and 5 MP at Best Buy. Battery life is another discrepancy (8 hours vs 9 hours).
Specs: ASUS ZenPad 8.0 (Z580CA)
8″ LED Backlight QXGA (2048 x 1536) Screen, IPS Panel
10 finger multi-touch support
Gorilla Glass 3
Display features: anti-fingerprint coating, palm rejection, full lamination, Active Pen Support
Android 5.1 (Lollipop) operating system
Intel Atom Z3560 Quad-Core processor, 1.83 GHz, 64 bit
32GB onboard storage space
RAM: 2GB
2-in-1 Audio Jack (Headphone / Mic-in)
MicroSD card slot, supports up to 128GB (SDXC)
Wi-Fi
Bluetooth 4.1
Sensors: G-Sensor, E-compass, GPS, Light-Sensor, Hall Sensor
Miracast support
Cameras: ?
Battery life: 8 or 9 hours
Weight: 298 grams
Dimensions: 203.2 x 134.5 x 6.6 mm