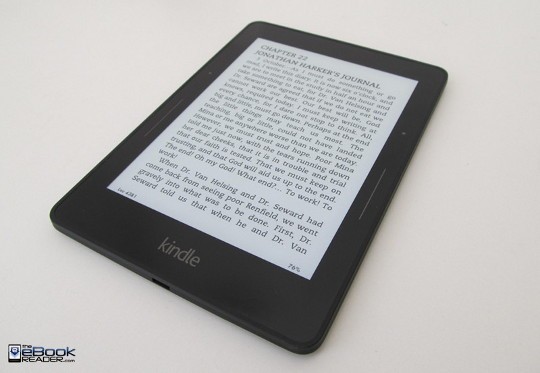 Now that Amazon has released the Kindle Paperwhite 3, a lot of people don't think there are enough extra features on the Kindle Voyage to justify the premium price of $199 and up, especially now that the Paperwhite 3 has the same high resolution 300 ppi E Ink screen as the Voyage, and for $80 less to boot.
It doesn't take a genius to figure out that Amazon is likely going to release a Kindle Voyage 2 this fall, since that's how they typically do things each year, and especially now considering the Paperwhite was just updated—they obviously aren't going to be replacing it in three months.
So at this point speculating on what features a Kindle Voyage 2 could offer makes some level of sense.
What would it take for you to want to buy a Kindle Voyage 2 later this year?
Keep in mind that Amazon isn't going to change core aspects of their Kindles, so hoping for things like ePub support, a memory card slot, and color E Ink aren't realistic expectations because none of that is ever going to be coming to a Kindle Voyage 2—guaranteed.
Kindles are all about minor, incremental upgrades. Realistic changes could include an improved frontlight, tweaking of the page sensor buttons or possibly adding real buttons or at least the feel of them, they could add a larger E Ink screen, perhaps audio support to bring back text-to-speech and audiobook integration, they could add a faster processor, and definitely more storage space.
The page button sensors are cool but they could use some improving; I can't help but find real page buttons more useful. The problem with sensors is you can't see them at night, and you can't feel with your thumb where they are located, so pressing the back sensor button at night is a total guessing game and it's kind of high to reach comfortably anyway.
E Ink as a technology has pretty much peaked for the time being, so I doubt the screen will be much improved, aside from making the frontlight color more even. They could go up to a larger screen size, like the 6.8-inch Kobo Aura H2O. That's a good screen size, and it would be nice to have a larger Kindle back in the mix once again. Amazon hasn't released anything but 6-inch E Ink Kindles since 2010.
One thing I wouldn't be surprised to see at some point is a waterproof Kindle. The Voyage could add that alone to justify the higher price, a waterproof ereader has some real world usage implications, and the Kobo Aura H2O has proven to be a popular ereader.