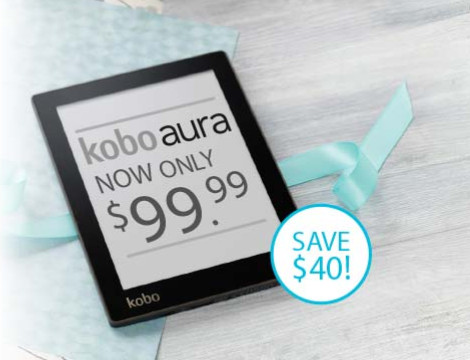 I was checking out Kobo's website today to see if they have anything new going on and I happened to notice that the Kobo Aura has received what appears to be a permanent price drop down to $99.
The deal is even better over on the Chapters.Indigo website. They also have the Kobo Aura for $99, and through July 19th it comes with a free $10 Kobo gift card to spend on ebooks.
When the Kobo Aura was first released back in Fall 2013, it sold for $149. Then somewhere along the line Kobo dropped the price to $139.
When the new Kobo Glo HD got released a couple months ago, Kobo started running sales on the Kobo Aura for $99, and now it looks like that's where the price is going to stay.
That makes sense given the fact that the Glo HD costs $129, considering it has an upgraded 300 ppi screen.
I'm kind of surprised that Kobo hasn't released an upgraded Kobo Aura that uses a 300 ppi E Ink screen.
The Kobo Aura was the very first E Ink ebook reader to feature a flush glass screen. Then the Kindle Voyage came along and copied the idea. Kobo could fire back by giving the Aura a 300 ppi upgrade and undercutting the Voyage's price by $40-$50.
But so far there has been no indication or rumors to suggest that that is going to happen. The only speculation about an upcoming Kobo device involves a new entry-level Kobo Touch 2.0. Kobo has pretty much let the cat out of the bag on that one themselves.
I wonder what Kobo plans to do with the Aura. It doesn't really fit in their lineup now that the Glo HD has a better screen. Are they going to eventually discontinue it? Or do they have a newer model in line to take over its spot soon?