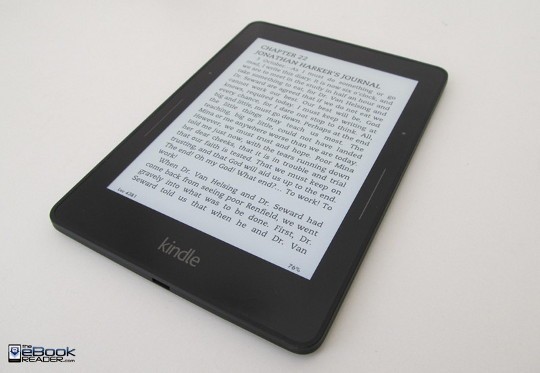 One of the most anticipated Kindle updates of all time is finally here. It adds the new Bookerly font and new typesetting and layout engine, among other things.
Amazon has started rolling out the new software to the Kindle Voyage, the $79 Kindle Touch ($59 for the next couple days), the Kindle Paperwhite 3 and Kindle Paperwhite 2.
The new software version is 5.6.5 for all above devices.
Like always the update will download and install automatically as long as your Kindle is connected to the internet. Hit the menu button and select to sync and check for items to try initiating the update.
Sometimes it can take a week or two to get the auto update, however.
If you really want it now you can download the new software update from Amazon. Make sure to select the right model from the Kindle Software Updates page.
Here's the list of changes with the new 5.6.5 software update:
A redesigned Smart Lookup makes it easier to get to the actions you want to take while reading – highlight, create a note, share a quote, and more, while keeping your favorite Smart Lookup features like Dictionary, Wikipedia, and X-Ray easily accessible. Just tap and hold on a word, phrase, or sentence to bring up Smart Lookup and swipe right to left to see the next card.

Bookerly, our new, exclusive font specifically designed for reading on digital screens to help customers read faster and with less eyestrain, is now available.

New typography and layout improvements with hyphenation, justification, ligatures, and kerning, as well as pop-up footnotes, endnotes and chapter notes. These improvements are supported in hundreds of thousands of Kindle books today, including many best sellers, with more being added every week, and are currently available for titles in English, French, Italian, German, Spanish, Portuguese, and Dutch.

Goodreads now offers personalized recommendations and author profile pages.