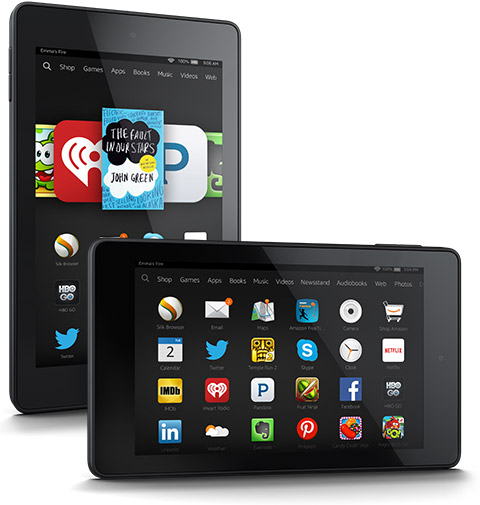 Amazon is running another sale on their 6-inch Fire HD tablet as part of the main Gold Box deal of the day.
The sale includes both the 8GB and 16GB Fire HD 6 models, as well as the Kids Edition tablet that comes with a case and 2-year warranty.
All are $30 off the regular prices. And the deal is for 1-day only, August 17th.
That means the 8GB Fire HD 6 is marked down to $69, which is the lowest price that it has gone down to with these various sales.
The Kids Edition Fire HD 6 normally goes for $149, but with today's sale it's marked down to $119.
I don't know why anyone would ever pay full price for the Fire HD 6 when you can just wait a couple weeks for it to go on sale again.
Even considering the software limitations with Amazon's tablets, $69 is a really low price for a tablet with a high resolution 252 ppi screen, a 1.5 GHz quad-core processor, front and rear cameras, and 8 hour battery life.
Lots of people don't like the fact that E Ink Kindles don't support audio or text-to-speech anymore, but it's hard to complain when you can get a Fire tablet that can do that and a bunch more for $69. You can buy one of those and a new 300ppi Kindle Paperwhite for less than a Kindle Voyage and get the best of both worlds.
The Fire HD 6 is pretty much the only 6-inch tablet on the market. It will be interesting to see if Amazon decides to keep it around and release an updated model in a couple months. With all the sales they've been running lately, it certainly looks like they are trying to thin out stock.