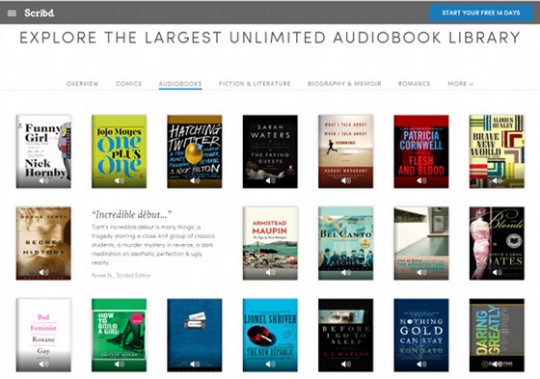 Last November Scribd added audiobooks to their ebook subscription plan, which costs $8.99 per month to get unlimited access to Scribd's library of several hundred thousand ebooks.
Since then audiobooks have been apart of the unlimited monthly plan, but now that's going to change. Starting September 20th, Scribd will be switching to an audiobook credit system instead.
That means the unlimited audiobooks library will be changing. But it's not going away completely. More like shrinking.
Instead of offering all of their audiobooks with the monthly subscription plan, Scribd is going to be offering a rotating catalog of "thousands" of audiobooks for unlimited listening.
Then for audiobooks outside of the "unlimited" library, you get one credit per month to apply toward any audiobook in the catalog. To get additional audio titles you have to purchase more audiobook credits for $8.99 each (seems pretty expensive for something you're renting and don't even own).
One good thing is the audiobook credits roll over to the next month if you don't use them, but the rollover is capped at six total if you don't use them up.
Publishers are probably starting to make the unlimited thing a problem, so Scribd is creating a workaround. But once again it's not at all to the benefit of the customer. Scribd also started removing a number of romance titles from their catalog earlier this year because people were reading too many of them. They even took away ebooks that people were in the middle of reading. Now they are taking away access to a large number of audiobooks too. Current customers aren't going to be very pleased…
Checkout this Scribd FAQ for more information.