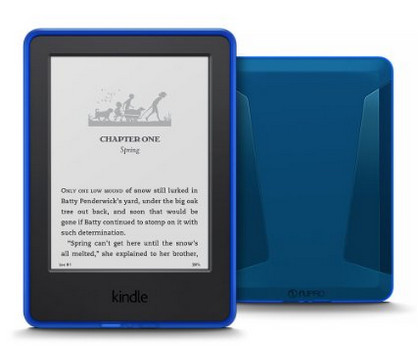 About three months ago toward the end of May, Amazon started selling a new Kindle for Kids Bundle for $99.
There's nothing "new" about it really, but the idea is new as far as E Ink Kindles are concerned. The device itself is the exact same as the $79 Kindle that was released last October, but it doesn't have advertisements and it comes with a colorful cover and a 2-year warranty instead of the regular 1 year warranty.
The Kids Kindle is actually a better value than the $79 version, especially if you don't like ads and want the benefit of an extended warranty that covers accidental breakages, but none of that appears to be helping drive sales of the Kids Kindle.
Compared to other Kindle and Fire devices, the Kids Kindle Bundle isn't getting much love at all.
Amazon never reveals sales figures for Amazon-branded devices, but you can get an idea of how well certain items are selling based on the number of reviews and their placement on Amazon's best seller lists. Neither of those two options shows good results for the Kids Kindle.
First, a number of Kindles and Fire tablets regularly litter the top 100 best sellers list for electronics at Amazon. The Kindle Paperwhite is usually in the top five; right now it's number 3. Currently at number 13 sits the aforementioned $79 Kindle.
But you won't find the Kids Kindle Bundle anywhere on that Top 100 list or anywhere on the Hot New Releases list.
A low number of reviews is another indication that the Kids Kindle isn't selling well. After 3 months on the market, it only has 37 total reviews. That's an average of less than 13 reviews per month.
A good comparison for that is the new Kindle Paperwhite 3. It was released at the beginning of July, a full month after the Kids Kindle Bundle became available, and it already has over 4,000 reviews.
The $79 Kindle has been out for about 10 months and it has over 11,200 reviews, so that's over a thousand per month.
Either way you look at it the Kids Kindle doesn't look like its getting very much attention from customers. The interesting thing is that it's a better value than the $79 version whether or not it's for a kid or not, but that doesn't seem to be helping it any.