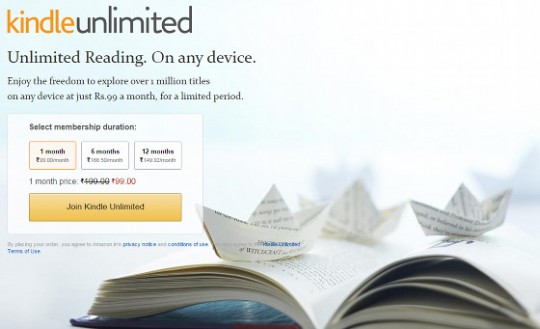 Kindle Unlimited, Amazon's ebook subscription service, has launched in India. It grants subscribers unlimited access to a library of over 1 million ebooks for a monthly fee.
The introductory price is Rs.99 a month, but that goes up to 199 next month (even still that only equates to about $3 USD so it's a lot cheaper than the $9.99 per month deal offered in the US).
The price goes even lower with a 6 or 12 month plan, down to 149 per month.
The biggest drawback with Kindle Unlimited is of course the fact that big name publishers aren't onboard with the program, so while 1 million ebooks sounds like a lot, there's not as many best sellers and popular authors as you might think.
That's why it's always a good idea to search through the available ebooks offered in Kindle Unlimited before forking over any cash.
You don't need to own a Kindle to use KU. You can read the ebooks with any Kindle app.
The way the program works is you can download and read as many ebooks as you want from the Kindle Unlimited library, but you can only have up to 10 ebooks downloaded at one time. The books don't expire and there are no return dates as long as you continue to pay the monthly fee. Once you stop paying, the books go back to Amazon and you lose access to them. So basically it's like renting ebooks instead of buying them.
Kindle Unlimited is also available in the US, Canada, the UK, Spain, Italy, France and Brazil. A few countries also have some audiobooks offered in the program, but India is not one of them.