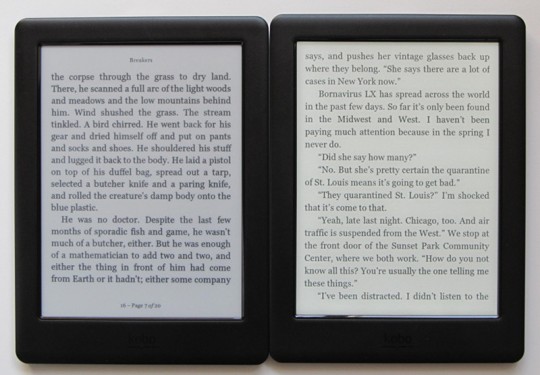 Last week I posted a review of the Kobo Touch 2.0, Kobo's latest entry-level dedicated ebook reader.
My biggest complaint with the device is the screen. It lacks a frontlight and it uses an old low resolution E Ink screen from 4 years ago.
I'm working on a comparison between the Kobo Touch 2.0 and the Kobo Glo HD. The screen difference between the two is shocking.
The Kobo Glo HD uses the latest screen tech from E Ink, a Carta screen with 300 pixels per inch. By comparison the Touch only has 167 pixels per inch, and it uses an older Pearl screen with a darker background color and less overall contrast.
It's surprising just how much better text looks on the Glo HD's screen. Text appears jagged and rough and fuzzy on the Touch, like a picture that's not quite in focus. On the Glo HD text is super crisp and clear and much more pleasant to read.
The Kobo Touch 2.0 isn't the only device to use that screen either. The entry-level Kindle Touch uses the same exact low resolution screen.
These 6-inch 800 x 600 E Ink screens were fine 4 years ago when they were first introduced, but why are they still in circulation when E Ink makes newer, better screens?
It makes no sense to keep inferior screens on the market when there are superior alternatives. E Ink has got to be the only technology company that can get away with selling 4 year old screens on "new" devices.
You can't say that cost is the reason because 212 ppi ereaders like the Kobo Aura and Nook GlowLight only sell for about $10 more than these 167 ppi ereaders, and those add frontlights as well.
It's time to retire these old low resolution screens, E Ink. They've got to go. What's the point of developing new screens if you're just going to keep using old ones?