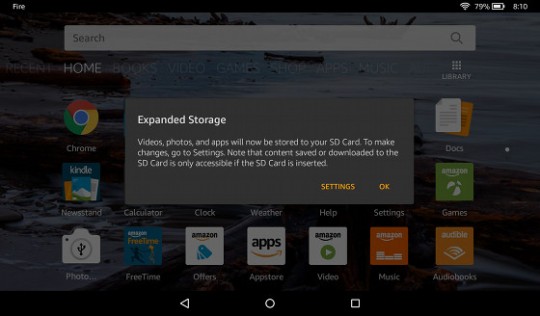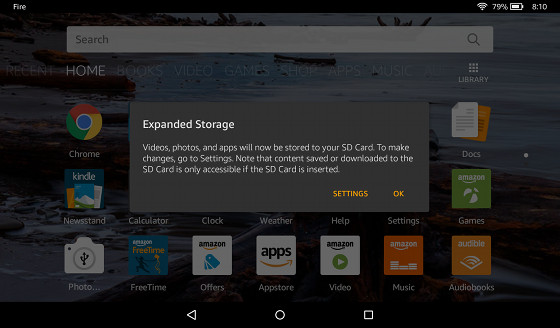 This year's lineup of Fire tablets come with microSD card slots to expand available storage space. This is a pretty big deal because it's the first time that Amazon has included a memory card slot on a Kindle Fire tablet.
There are a number of questions about how microSD cards work with Fire tablets: what kind of content can be put on the card, what kind of memory card is the best to use, which apps can be installed on the memory card, how to manage ebooks, etc.
There's this help article at Amazon that explains everything about how microSD cards work with Fire tablets.
I also did some testing with how ebooks work on the microSD card, including Kindle-formatted ebooks, PDF files, and ePub ebooks, and will explain how to make those work.
First off, there are three Fire tablets that have microSD card slots. They are the new tablets for 2015, the 5th generation Fire tablets. That includes the entry-level $49 Fire, the Fire HD 8 and the Fire HD 10.
Quick Tip: Remember to safely eject your memory card when removing it from your Fire tablet by going to Settings > Storage > Safely Remove SD Card.
Supported MicroSD Cards
Amazon sells MicroSD cards that are made specifically for their Fire tablets. They are good quality cards, but you can often find very similar cards on Amazon for a little less.
These are the requirements when it comes to memory cards on Fire tablets:
Support for FAT32 and exFAT formatted microSD cards.
Supports cards up to 128GB.
Ultra High Speed (UHS) microSD cards supported.
Amazon recommends at least Class 10 cards for optimal performance when using non-UHS cards; Class 2 cards may not perform well for video playback or burst mode photos.
MicroSD Card – Supported Media
The Fire tablet's user guide specifies what can and cannot be stored on a microSD card:
You can install apps and games, download music and videos, and store photos and personal videos on an external MicroSD Card.
Basically you can add just about any kind of digital content to the memory card as long as you've got an app installed that can display it.
Not Supported on MicroSD
Kindle ebooks
Silk browser downloads
Emails
Obviously these only extend to Amazon's content. For instance, you can load audiobooks and ebooks from other sources on the microSD card. Kindle books too, it's just better not to (explained below).
Update: Audiobooks downloaded from Amazon/Audible used to be on this list too, but Amazon added support for audiobook downloads to the microSD card in March 2016.
Manage Content on MicroSD
The funny thing about Amazon is they finally added support for microSD cards and yet their Fire tablets still don't come with an app that can manage the content on the memory card.
So the first thing you're going to need is a file manager app like ES File Explorer from the Amazon appstore. That will make it a lot easier to locate and manage the content on your microSD card.
Setting Preferences
Go to Settings > Storage to manage microSD card settings.
You can set it to automatically install apps to the SD card, download Amazon movies and TVs to SD, and store photos and personal videos to SD.
Move Apps to MicroSD
One of the big questions is, "Can you install apps on the microSD card?" The answer is yes. Yes, you can. But it depends on the individual app; not all apps support memory cards. The apps that do support it will automatically get installed on the microSD by default if you have a card installed, as mentioned in the preferences section above.
To move an app to the SD card after installing it on the internal storage, go to Settings > Apps & Games > Manage All Applications > and then choose the app and select to Move to SD Card.
How to Manage eBooks on MicroSD
There have been some complaints that Fire tablets don't support ebooks loaded on a microSD card. That's not exactly true. You can load any kind of ebook you want on the memory card and it will work as long as you've got an app installed that supports it.
Lots of people still think ePub ebooks aren't supported just because Kindle ereaders don't support ePub. But Fire tablets do support ePub ebooks, even ebooks with Adobe DRM and ebooks from the library. All you have to do is install the OverDrive app from the Amazon appstore.
Fire tablets support tons of other ePub apps as well. You just have to install them from an alternate appstore such as 1Mobile, because Amazon doesn't play fair with their appstore.
Kindle ebooks can be opened from the microSD card, but you wouldn't want to do it that way because they don't get added to the Kindle reading app. The book won't show up in the library and the app won't remember what page you left off on when re-opening the book.
There is a simple solution to this: use a send-to-Kindle app or email to send the ebooks to your Kindle's free email address (located in Settings > My Account). Then the books will work in the Kindle app (open them using the Docs app), and will have all the regular Kindle features, like page syncing, notes, bookmarks, etc.
When viewing PDF files that are loaded onto a microSD card, they also work with the Kindle reading app, but the app won't remember what page you're on or anything after leaving the app. You can send PDFs to your Kindle account the same way as ebooks and personal documents, as described in the paragraph above.
If you don't want to do it that way, simply load any PDF app onto your Fire tablet, such as the Foxit PDF app, and then use that to display your PDFs off the microSD card instead of the Kindle app.