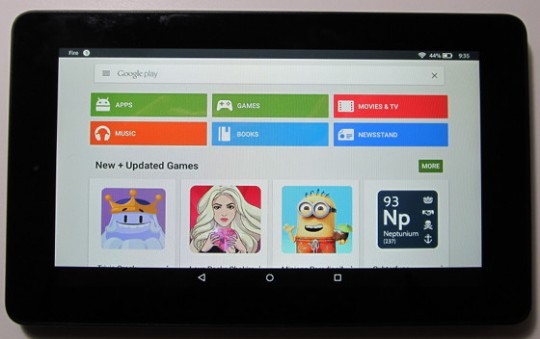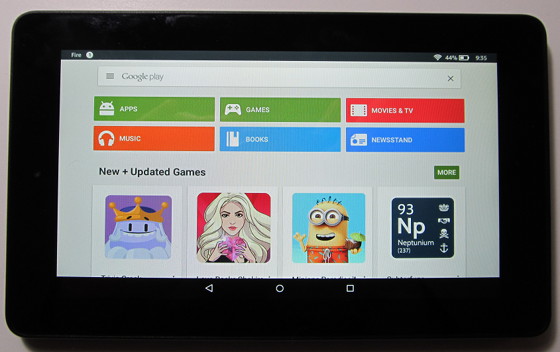 For this tutorial I'm going to explain step-by-step how to install the Google Play Store on the new Fire tablets for 2015. This includes the $49 entry-level Fire tablet, and the Fire HD 8 and HD 10 tablets.
Update: See this updated article with an easier way to install Google Play on Fire tablets that doesn't require using a computer.
I've successfully gone through the process of installing the Google Play Store on the $50 Fire and the Fire HD 8, so I know that this trick does indeed work, and it only takes a few minutes to complete.
With the Play Store installed, you have access to a lot more Android apps, and it makes it so you can use Google's apps (like YouTube, Maps, and Chrome), so it's more like having a regular Android tablet.
A lot of people encounter problems with installing drivers when using this method. It works automatically on some systems and not on others.
I encountered problems getting past the installing drivers step too, so I will explain how to get that issue fixed if you encounter problems.
Please note that this process just installs the Google Play Store onto Fire tablets; it does not root them. It also gets rid of the screensaver advertisements.
Basically all you have to do is download a zip file, plug your Fire tablet into your computer, run a batch file, and then follow the onscreen directions. The process is super easy thanks to the developers who put this together over at XDA.
Disclaimer: This is tested and working with Fire OS 5.0.1, and needs to be on that version to work properly. Amazon may break this from working in the future, so be forewarned. There's also always a risk of unforeseen software issues when doing changes like this, so modify your Fire tablet at your own risk!
For more information and updates, refer to the Installing Google Framework/Playstore without Root thread at XDA.
Please note that this tool works with Windows computers only.
Update: Click here for an updated method that's even easier to install Google Play on Fire tablets that doesn't require using a computer.
How to Install Google Play on Fire Tablets
Step #1: Download the zip file from RootJunky and extract the zip file on your computer: Amazon-Fire-5th-Gen-Install-Play-Store.zip
Step #2: Prepare Your Fire Tablet for installation.
Go to Settings > Device Options.
Tap Serial Number 7-10 times.
Below the Serial Number a Developer Options entry will appear.
In Developer Options, turn on Enable ADB.
Step #3: Plug your Fire tablet into your computer with the USB cable and check the box that pops up to confirm the ADB connection to your tablet. At this point it will install drivers. Once that's finished, open the extracted zip file and double-click the "1-Install-Play-Store.bat" file.
If drivers installed properly, your device will be listed on the startup screen with a serial number. Follow the on-screen instructions to install the Play Store.
If your device isn't being detected, you have a drivers issue that is preventing your Fire tablet from properly communicating with your computer. Check the next step to fix it.
How to Fix Drivers Issue (Optional)
You can use RootJunky's Fire Tablet Tool to install ADB drivers (just follow the onscreen steps), or you can download them from Google online, but neither option would work for me.
This is how I had to fix the drivers issue on my Windows 7 computer:
1. Type "Device Manager" in your computer's search bar and open the Device Manager.
2. Locate your Fire tablet under the Portable Devices or Other Devices section and right-click to choose Update Driver Software.
3. Choose "Browse my computer for driver software".
4. Select "Let me pick from a list of device drivers on my computer".
5. Choose Android Phone (or Android Device).
6. Then select Android Composite ADB Interface (or Android ADB Interface) and confirm to proceed.
Now your tablet should be recognized when you run the 1-Install-Play-Store.bat file. You can also use the tool to test if the drivers installed correctly. Below is a video from RootJunky outlining the process.
Play Store Install on Fire Tablet Video