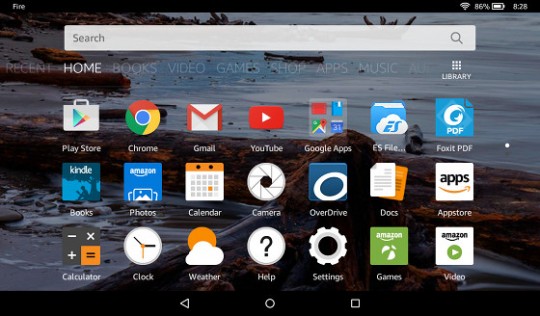 Below are super easy directions showing you how to install the Google Play Store on Amazon's Fire tablets. Basically all you have to do is sideload a few apps and install them. Easy peasy. You can do it all from the Fire tablet itself, no computer or rooting required.
Update: See here for an updated version of this install guide with a video tutorial: How to Install Google Play on 2017 Fire Tablets in 5 Minutes.
This method works on Fire tablets running Fire OS 5, including the entry-level $49 Fire, the Fire HD 8 and Fire HD 10. It also works on the previous Fire HD, the Fire Phone, and the 8.9″ Fire HDX as long as Fire OS 5 installed.
Last year I posted about how to install Google Play on Fire tablets using a different method.
That way still works as well but it requires downloading a utility script to a PC and using it to install the Play Store apps. That method requires using a Windows computer and sometimes getting the drivers to work is a pain, so here's an even easier solution to add the Play Store to your Fire tablet.
With the Google Play Store installed you can easily add Google's apps to Fire tablets, like Gmail, YouTube, the Google Chrome web browser, etc, and you also get access to a wider selection of apps than what's available from the Amazon appstore.
Update: See here for directions on how to fix Google Play after the Alexa update.
How to Install Google Play on Fire Tablets
Step #1: Prepare Your Fire Tablet
Go to Settings > Security > Enable Apps from Unknown Sources.
Step #2: Download Google Apps
You need to download 4 different apk app files. The easiest way is to download them to the Fire tablet directly.
Update: If your Fire tablet has Fire OS 5.3.1.1 or 5.3.2 and up, then use these newer apps from this post at the XDA forums instead of the older ones shown in the video.
Likewise, if Google Play suddenly stopped working on your Fire tablet after updating then install the top two newer files from the XDA link above, Google Account Manager and Google Services Framework. Then restart the tablet and it should be good to go. That worked for me after the 5.3.2 update.
Older firmware still works when downloading the top 4 apk files from here: Archive.org (old files).
Or you can download all 4 in a zip file from here: Google Drive (old files).
Note that if you use the second option you'll also need to install a file manager app such as ES File Explorer to extract the zip file.
Step #3: Install Google Apps
Use the Fire tablet's Docs app to locate the downloaded apk app files to install them. Generally the default location is Docs > Local Storage > Download if you used the web browser to download the files above.
The Google apps need to be installed in the following order to work:
Note that if you are using the newer apps from XDA then follow the order listed over there, but it should work either way.
Google Services Framework
Google Play Services
Google Account Manager
Google Play Store
Once that's finished you can open the Play Store and sign in to your Google account.
Step #4: Update and Restart
After you open the Play Store for the first time you need to install the YouTube app and then open it. This will prompt the Play Store services to update to the latest version, an important last step. Once the update is installed (it takes awhile), power off and restart your Fire tablet.
Now the Google Play Store app should be good to go!
Video: How to Install Play Store on Fire Tablets