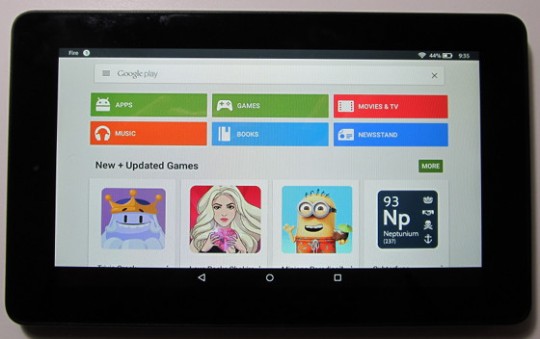 If you added Google Play to your Fire tablet and it suddenly stopped working properly after the Alexa update, here's a quick fix to get things working again.
Basically all that you need to do is install a couple newer versions of Google apps, namely Google Account Manager and Google Services Framework. Then restart your tablet and that's it.
This fix applies to 5th and 6th generation Fire tablets after the 5.3.1.1 and 5.3.2 firmware updates.
That includes the entry-level $49 Fire tablet, the Fire HD 10 and both Fire HD 8 models.
The Google Play store and some other apps downloaded from the Play store stopped working after the Alexa update on my $49 Fire tablet. At first it seemed to be okay but then apps wouldn't update or load properly.
Some folks at XDA mentioned installing the newer versions of Google's apps and that got things back up and rolling again in just a couple of minutes.
It turns out you only need to install 2 of the apps instead of all 4 if you followed this Fire tablet Google Play install guide, or any similar tutorial where you simply sideloaded the Google Play store and accompanying apps.
If you are new to this and haven't installed the Play Store app on your Fire tablet before then you need to install all 4 apps from this list at the XDA forums.
The Alexa Fix: Update Google Apps
Install Google Account Manager 5.1-1743759.
Install Google Services Framework 5.1-1743759.
Restart tablet.
Enjoy!
—
This has been confirmed to fix Google Play on 5th and 6th gen Fire tablets after the 5.3.1.1 and 5.3.2 updates, but if for some reason it doesn't work for you then you can try installing the additional newer versions of Google's apps from this thread at the XDA forums.
That would also be the best place to ask for troubleshooting tips because I'm not an Android expert by any means.