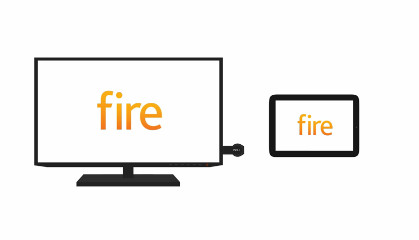 One question that often comes up regarding Amazon's Fire tablets is how to connect them to a TV or secondary monitor.
Connecting Fire tablets to a TV is actually quite simple, and there are a couple of different methods, but it depends on which model you have.
Yesterday someone asked how to connect the $49 Fire tablet to a TV to watch movies and YouTube videos.
I did some research and it turns out the cheap $50 model only supports Amazon's second screen feature, not display mirroring like the HD and HDX tablets.
Functionally the two features are quite different. As the name suggests, display mirroring mirrors the tablet's display onto a TV, so all content types are supported.
With the second screen feature, only videos from Amazon can be streamed from the Fire tablet to a compatible TV or streaming device. To make matters worse, the 2015 Fire tablets can only stream to an Amazon Fire TV device, which is totally redundant because obviously the Fire TV can do that itself anyway.
The Fire HD 8 and Fire HD 10 tablets both support wireless display mirroring. Some of the earlier models required using HDMI cables or HDMI adapters, but these newer HD models don't require cables at all. The only downside with wireless streaming is it requires special hardware to receive the signal, of course.
For display mirroring to work, you need a TV or streaming device that supports Miracast, like the Fire TV Stick, Google Chromecast, or other Miracast dongle.
How to Setup Second Screen
When using second screen, you can wirelessly stream Amazon videos to a Fire TV device. You can use your Fire tablet as a remote to control videos, and you can use it as a secondary display to use Amazon's X-ray feature to learn more about the show you're watching. You can also use the tablet for other things like browsing the web and checking email while using second screen.
Here's how to use second screen:
1. On your Fire tablet go to Videos, then Store.
2. Find the video that you want to watch, then press the Second Screen icon (a screen with an arrow) from the video details page.
3. A window will open with the option to select a device that supports second screen to wirelessly stream the video to. That's it!
Here's the link to the Second Screen on Fire Tablets help section at Amazon if you're having any problems getting it to work.
How to Setup Display Mirroring
Using display mirroring with the Fire HD 8 and HD 10 is super easy as long as you have a supported streaming device.
1. On your Fire tablet, go to Settings > Display.
2. Select Display Mirroring for your tablet to search for compatible devices.
3. Select your TV or streaming device from the list, and then in a few seconds in will connect and you're good to go.
Here's the link to the Wireless Display help section at Amazon if you encounter any problems getting this to work.