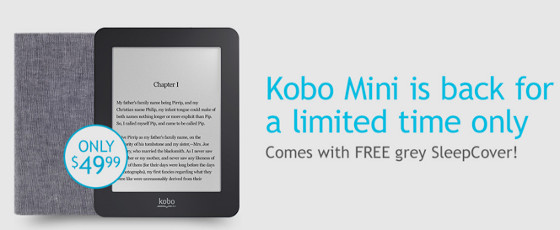 Kobo has started advertising a limited time offer on their homepage for the Kobo Mini. It's a bundle package deal where you can get the Kobo Mini for $49 and it comes with a free grey sleepcover. The deal runs through November 7th.
The Kobo Mini was discontinued early last year, so it's pretty surprising to see Kobo bring it back.
Based on the description, this appears to be a newer model of the Kobo Mini because there are two differences from the original.
First, they emphasize the fact that it doesn't have a removable back that's compatible with Snapback accessories; the original Kobo Mini had the option to change out different colored backs.
The description also says it has a Pearl E Ink screen. Originally the Kobo Mini had an E Ink Vizplex screen. So it appears that this is a new production run of the Kobo Mini and not leftover stock from the original.
The Kobo Mini was released back in 2012. It originally sold for $79, and sometimes went on sale for $49.
It is one of just a few ebook readers to have a 5-inch E Ink screen. Otherwise it's very similar to Kobo's other ereaders. It has an IR touchscreen, WiFi, 2GB of storage space, but no frontlight or memory card slot. Here's the link to my Kobo Mini Review for more details.