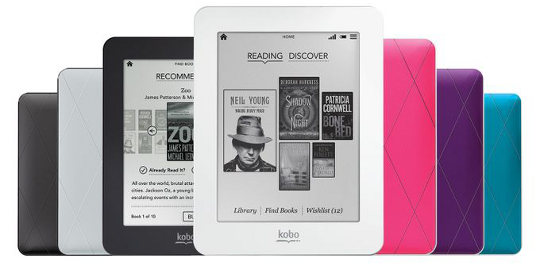 The Kindle DX isn't the only ebook reader that has gone missing recently. The Kobo Mini has also seemingly been discontinued, without a word as to why.
A complete opposite of the large-screen Kindle DX, the Kobo Mini is a diminutive ebook reader with a small 5-inch screen. I reviewed it back in November 2012 shortly after its release, and thought it was a nice ereader with a lot of features for the price.
The Kobo Mini was Kobo's entry-level ebook reader; it only cost $79 and first, and often went on sale. Then the price was permanently dropped to $59 in November 2013, a first sign that it was being phased out.
Now it looks like the Kobo Mini has been unofficially discontinued, as it has been unavailable for a long time from most Kobo retailers.
In fact Kobo's own website no longer lists the Kobo Mini for sale at all. The url to what used to be the sales page for the Kobo Mini now just says "Sorry, but this page isn't available." It's been that way for several weeks now, at least.
Except in a few rare instances, none of the retailers on Kobo's description page for the Kobo Mini sell the device either. Some list it but they are out-of-stock. Most don't show it at all anymore. Walmart and ToysRus in Canada are the only two places that I could find with any left—both have the white model for $49.
Further evidence of the Kobo Mini being discontinued is the picture below. Some of Kobo's retailers use it to advertise Kobo's devices, and the Kobo Mini is not included, yet the Kobo Touch is still on there and it out-dates the Kobo Mini by over a year.

Maybe Kobo will surprise us and release an updated version of the Kobo Mini soon, one with a frontlight and upgraded screen. Maybe…