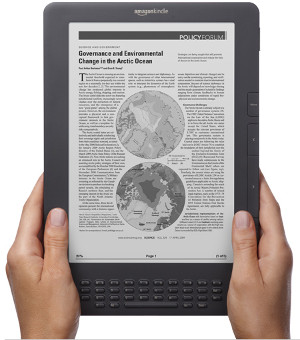 Amazon has stopped selling their large-screen 9.7″ Kindle DX ebook reader. And it appears that it may have been discontinued . . . again.
Usually when Amazon runs out of their current stock of Kindles, the description page will say that the item is out-of-stock or on backorder, and there's usually an estimated date of return.
But not with the Kindle DX.
Amazon simply is not selling it anymore; it is only available used from 3rd party sellers. And there's no indication on the description page that it is going to return anytime soon.
Another sign of the Kindle DX's discontinuance it it's removal from the Kindle banner at the top of Kindle device pages.
Also, the leather cover for the DX that usually sells for $50 is deeply-discounted to $9.99.
This isn't the first time that Amazon has seemingly discontinued the Kindle DX. Back in October 2012, the same exact thing happened where Amazon suddenly removed the Kindle DX from other Kindle pages and stopped selling it new.
Then it unexpectedly returned several months later in May 2013, and has remained available until now.
Could this be the end of the Kindle DX this time around? The software is so old and out-dated that it certainly needs to be replaced by a newer model if Amazon wants to continue selling 9.7″ Kindles. Hopefully that is indeed the case, and they aren't just intending to do away with large E Ink Kindles for good.