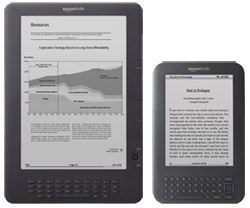 Here lately some weird things have been happening to the older Kindle models listed over at Amazon.com.
In recent weeks the Kindle Keyboard, previously known as the Kindle 3, has seemingly been discontinued. Even though the Kindle Keyboard was several generations old, Amazon continued to sell it up until recently because of its unique accessibility options with the keyboard, text-to-speech, and voice guide features. But now the only Kindle Keyboards available from Amazon are used.
The Kindle 3 is the last of its kind. A lot of people are going to be disappointed to hear that Amazon is pulling the plug on the last of their keyboard-equipped Kindles. To see it being replaced by touchscreens and frontlights and LCD tablets isn't surprising, but it does mark the end of an era. The Kindle 3 is most likely the last Kindle to resemble the original design with the attached keyboard below the screen.
But you never know. The Kindle 3 could come back from the dead one day, like the Kindle DX did yesterday.
For reasons unknown Amazon has quietly started selling the 9.7″ Kindle DX again, at least temporarily. It has suddenly reappeared atop the Kindle banner at Amazon alongside the Kindle Paperwhite and basic Kindle, showing a price of $299. That's the same price it sold for back in October 2012 during its final run. Before then it sold for $379.
It's odd that Amazon would bring it back after all these months. They must have found a stockpile of them laying around somewhere.
The same sort of thing happened to the Kindle Touch recently. Amazon suddenly started selling it new again for awhile but it didn't last long. So if you really want a Kindle DX, despite its numerous shortcomings, now would be the time to get one. Like the Kindle 3, it is the last of a dying breed. It's unlikely Amazon will release another large-screen E Ink ereader again, especially now that they've invested in color electrowetting display technology.