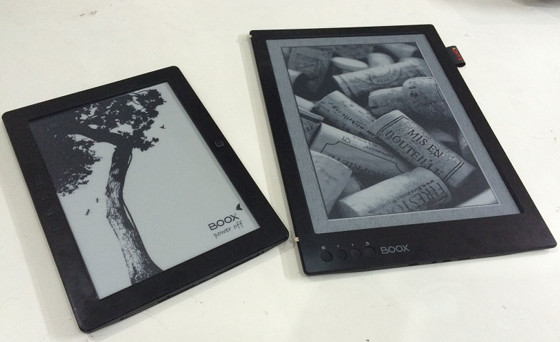 One of Onyx's distributors has posted a few early pictures and specs at MobileRead showing a prototype of Onyx's upcoming 13.3-inch ereader.
It's good to see some proof that Onyx is indeed working on a large screen ereader. They're currently the only company with a 9.7-inch E Ink ereader on the market (at least the only one that is widely available), so if anyone can pull-off a 13.3-inch ereader it should be Onyx.
For the past couple of years, Sony has been the only game in town for a 13.3-inch E Ink ereader with their DPT-S1, but at $800 a pop it hasn't exactly taken off.
A couple of other companies have teased 13.3-inch ereaders, like the PocketBook CAD Reader and this Netronix prototype, but nothing has come of them yet.
The new 13.3-inch Onyx device is expected to be available in spring of 2016. Hopefully it doesn't get delayed like the others. There's no word on pricing yet, but it will probably be pretty expensive given the rarity of the screens.
One interesting detail about the 13.3-inch Onyx ereader is it's going to be using a higher resolution screen than Sony's DPT-S1. The distributor says it will features the newest flexible PVI HD screen with a resolution of 2200 x 1650 (that's 207 DPI). By comparison, the other 13.3-inch screens have a resolution of 1600 x 1200 with 150 DPI.
Another detail about the upcoming reader is the fact that the initial version will have an inductive touchscreen for using a stylus (like the Boox M96). That should make it ideal for PDFs and note-taking.
It most likely runs Android like Onyx's other ereaders, but there's no word on what version just yet. It could be Android 4.4, as they've got a pre-release version of it available to try out now on the Boox i86.
Below is a picture to get an idea of the size difference. That's a typical 6-inch ereader on the left, and the 9.7-inch M96 is in the middle.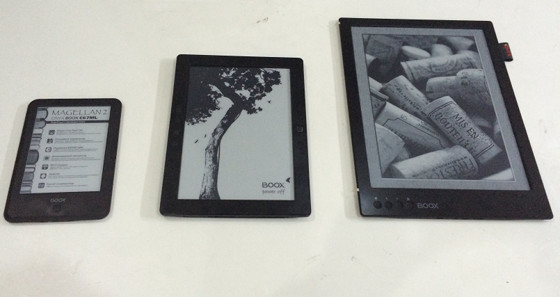 via: MobileRead