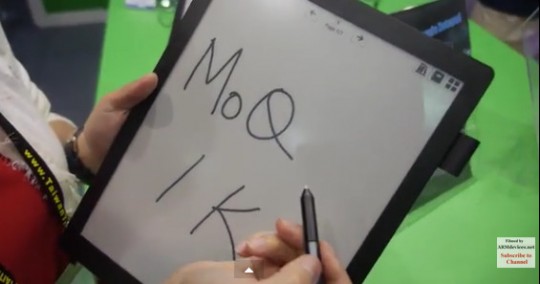 Netronix is demoing their 13.3-inch E Ink ereader and notepad at Computex 2015. We first saw Netronix's new ereader back in January at CES.
It's one of just a few devices to use a 13.3-inch Mobius screen, which has a resolution of 1600 x 1200. Unlike most E Ink screens, this one is plastic-based, so it's much lighter and more durable than typical E Ink displays.
It features a capacitive touchscreen for finger touch in addition to an electromagnetic touchscreen for accurate writing and note-taking using a stylus pen.
The device runs Android 4.0.4, but it's unclear if it can easily install Android apps.
Netronix is still looking for partners to distribute the device, along a similar 6.8-inch model.
The 13.3-inch version looks like it could be good competition for the Sony DPT-S1, Sony's 13.3-inch dedicated PDF reader, which recently dropped in price by $200 to $799.
Hopefully we'll see these Netronix devices getting released later this year, and at a lower price point than Sony.
Netronix 13.3″ eReader/Notepad Specs
13.3-inch Epaper Display.
1200 x 1600 pixel resolution.
Capacitive touchscreen.
Supports handwriting with stylus.
Built-in notepad with selectable background and ink mode (brush/pen/pencil)
Formats supported: JPG, PNG, PDF, ePub, MOBI, FB2, HTML, TXT, RTF, Doc.
Print documents from your PD to Notepad.
MicroSD card slot.
Android 4.0.4 operatng system.
Battery: 1500mAh Li-polynmer.
Wi-Fi.
Dimensions: 310 x 233 x 6.6mm.
Weight: approximetly 400 grams.
Mostly the video below just focuses on the handwriting features, but the earlier video goes into more details about other features, including reading ebooks.
Video: Netronix 13.3″ eReader & Notepad