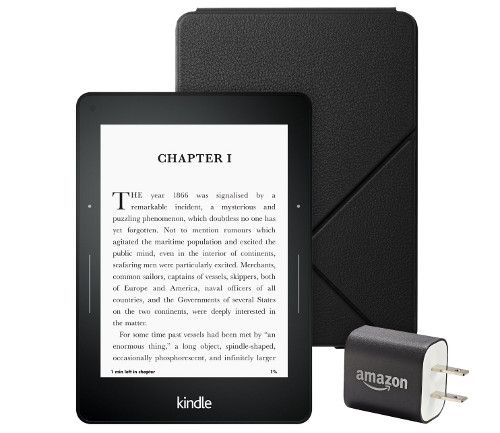 Instead of releasing new Kindle models this fall, Amazon is putting together some new bundle packages of current models instead.
Earlier in the week Amazon started offering three different bundle packages for the $49 Fire tablet. Now they've also got bundle deals available for the Kindle Paperwhite 3 and the Kindle Voyage.
This should put to bed any remaining rumors that Amazon is going to release a Kindle Voyage 2 this November.
Unfortunately there's just the one "Essentials" bundle available for the Kindle Voyage and Paperwhite, not the three options like the Fire tablet.
The Essentials bundle adds Amazon's leather Kindle cover and a 5W power adapter. The Voyage bundle sells for $249 and the Paperwhite bundle sells for $159.
It basically works out to getting a free power adapter with the Paperwhite bundle and a free power adapter plus $10 with the Voyage bundle. The power adapters sell for $20, so it's a substantial savings over buying everything separately.
Getting a free power adapter just isn't all that exciting though. I think it would be better with a free Amazon gift card instead, like the Fire Entertainment bundle.
Kindle Voyage Essentials Bundle