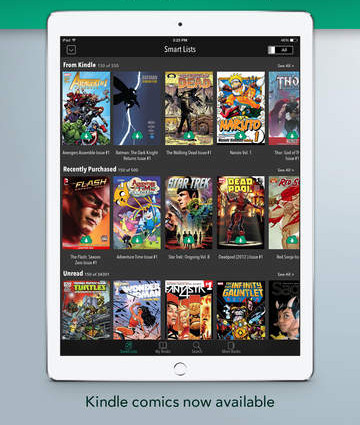 Today Comixology updated their apps for Android and iOS to add support for Kindle comics purchased with an Amazon account.
Amazon bought Comixology early last year, so the fact that they are taking steps to merge accounts isn't a big surprise, similar to what Amazon has done with Audible and their audiobooks.
It should be noted that it's a one-way street, however. Kindle comics can be read using the Comixology app but Comixology comics cannot be read through a Kindle app.
The Comixology app provides a better overall reading experience for comics and graphic novels anyway because it has guided view to automatically zoom in on each frame when using smaller screens.
In the near future Comixology will be making the move to exclusively use Amazon accounts to sign in, and newer features will depend on using an Amazon account.
Here's where you can find more information about merging your Kindle and Comixology accounts on the support section of Comixology's website.
The Comixology app for Android and iOS can be found on Google Play and iTunes. The Kindle Fire version of the Comixology app has been updated as well and is available from the Amazon appstore.