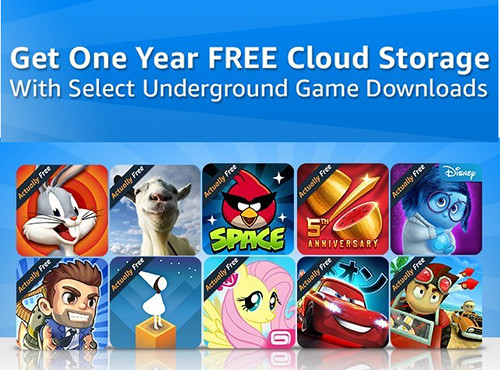 Amazon has an ongoing promotion where you can get one year of unlimited online cloud storage from Amazon Cloud Drive just for installing a free Android game from a selection of ten.
The free cloud storage offer is valid through December 11th, 2015 and is available for US residents only.
The fine print says that you will get an email from Cloud Drive within five business days with a link to redeem the 1 year free storage offer.
Amazon is trying to get more people to install their Amazon Underground App; giving away unlimited cloud storage is one way to get people's attention.
The 1 year unlimited storage plan normally costs $60, so getting it for free just for installing a free game is a pretty easy way to save some cash.
The free apps are good games too, with popular titles like Jetpack Joyride, Fruit Ninja, Angry Birds Space, and Monument Valley.
Amazon Underground apps are marketed as "Actually Free" because they are paid apps in other appstores like Google Play, or they include free in-app purchases. The only downside is you have to keep app usage data collection turned on for Underground Apps because Amazon determines how much to pay developers based on how much you use their apps.
More Information: 1 Year Free Amazon Cloud Drive Offer