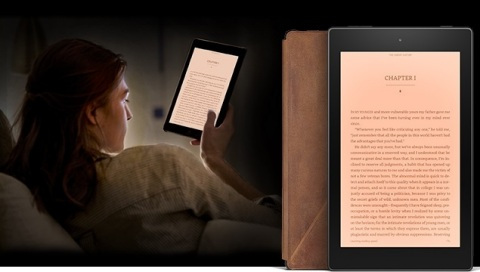 Today Amazon announced a new addition to their tablet lineup (kind of) with the release of the Fire HD 8 Reader's Edition.
It's available for "pre-order" today for $249 and it starts shipping in two days on December 9th.
Amazon's marketing is trying to be clever with this one but I'm not sure if it's going to work.
They're kind of making it sound like an entirely new tablet, with claims like it's "the best tablet for reading", but all the whole thing really amounts to is a glorified bundle package.
Essentially what they've done is taken the regular Fire HD 8 tablet and added a rustic leather cover and 1 year of Kindle Unlimited, Amazon's ebook subscription service.
There's a lot of marketing hype about Amazon's new Blue Shade feature that limits blue light on the new Fire HD 8 Reader's Edition tablet, but that's a new feature of Fire OS 5 and will soon be available on all 2015 Fire tablets, not just the Reader's Edition tablet.
The Fire HD 8 normally sells for $149 (it's on sale for $129 right now), so this new Reader's Edition is $100 more. For the extra cost it adds this rustic brown leather case that sells for $79 and 1 year of Kindle Unlimited, which costs $119 when purchased separately.
I'm not quite sure how a cover and a 1 year subscription to Kindle Unlimited suddenly makes the Fire HD 8 "the best tablet for reading" but that's what Amazon says so it must be true. 🙂
In truth the Fire HD 8 (here's my review of it) is adequate for reading but the screen is lower resolution than a lot of other tablets so text is fuzzier, especially smaller sizes. At 1280 x 800, it has 189 ppi (pixels per inch). Something like the ASUS ZenPad S 8 has a 2048 x 1536 (320 ppi) screen, a much crisper display for reading, and it's currently selling for $169. So calling the Fire HD 8 "the best tablet for reading" is pretty far-fetched (and it just bugs me).