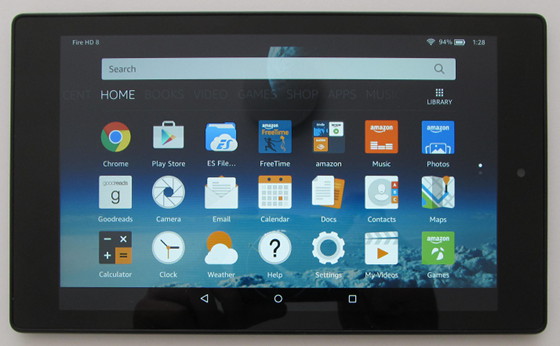 Review Date: October 2015 – Review unit purchased from Amazon
Overview
The Fire HD 8 is among Amazon's 5th generation of Fire tablets, along with the Fire HD 10 and the new entry-level $49 Fire.
The Fire HD 10 has the exact same specs and software as the Fire HD 8. The main difference between them is the size, and the 10-inch model has the option for more internal storage space (32 GB). They also come in different colors.
Both the Fire HD 8 and 10 are the first tablets that Amazon has released with those specific screen sizes, which have been very popular with other tablet makers like Samsung. It appears that Amazon is trying to replicate the success of the Samsung Galaxy Tab 4 tablets with these HD models. The specs are very similar, but Amazon's prices are much lower.
Fire HD 8 Review
Pros
Nice form factor—very lightweight and thin and comfortable to hold.
MicroSD card slot (it's still hard to believe that Amazon finally added one after all these years).
The sound quality and volume of the dual speakers is much better than most other tablets.
Aside from the lower resolution, the screen looks fantastic—colors are deep and vibrant and the viewing angles are wide.
The Google Play Store can be added quite easily (Amazon may break the easy install in the future though—you never know).
Cons
Not great for reading because the lower screen resolution makes text appear fuzzier and more pixelated than higher resolution screens.
Battery life just so-so.
Not super fast—there's a noticeable lag and stutter at times.
Fire OS 5 is an improvement, but it still doesn't offer as much customization, control, and overall features as regular Android devices.
Verdict
The Fire HD 8 ended up being a nicer tablet than I was expecting. It's very sleek and thin, and it has more of a premium feel than Amazon's other tablets. The 8-inch screen size is also a nice upgrade over the typical 7-inch tablets.
The Fire HD 8 looks nice and it works well enough, but when it really comes down to it, I'm not sold on the overall value to price ratio. You can get the exact same features (albeit with a crummier shell and a duller screen) on the $49 Fire. Or you can spend $50 more and get an Asus ZenPad 8 with a much nicer screen and better overall specs. Or you could spend $40 less on the Lenovo Tab 2 A8, which basically has the same specs and a more open OS. That puts the Fire HD 8 in a tight spot.
Price: $149 – $199 at Amazon
Fire HD 8 Tablet Video Review
Hardware and Design
Right out of the box I was surprised by how light and thin the Fire HD 8 is; it's easily Amazon's best-looking tablet yet, and the small frame makes it comfortable to hold (although it's quite slick without a case).
The second thing that surprised me about the Fire HD 8 was how good the screen looks. Because of the lower resolution (1280 x 800) I wasn't expecting it to be so nice, but it has really good color and is very clear, with strong viewing angles. It reminds me a lot of the screen on the Samsung Galaxy Tab 4.
The only negative with the screen is it's not the best for reading because text does have a fuzzy, pixelated appearance, more so with smaller font sizes. But when it comes to things like videos, games, and images the screen looks fantastic.
As far as performance is concerned, the Fire HD 8 runs smoothly for most tasks with its 1.5GHz quad-core processor. But there are times when navigating that you'll notice lagging and stuttering. I think it's because Amazon's custom interface is so heavily dependent on images and scrolling—the two combined can make for a laggy mix. I think the 1GB of RAM is more to blame for that than the processor.
Other hardware features include dual-band Wi-Fi, Bluetooth, it has dual speakers, a microphone, 3.5mm headphone jack, front and rear (5MP) cameras, and it comes with the option for 8GB (4.5GB available) or 16GB (11.6 GB available) of internal storage. There's also a microSD card slot for cards up to 128GB (here's a Fire tablet microSD cards article with more details about how they work and what content is supported).
Battery life is rated at up to 8 hours but that does not seem very accurate from my tests. Maybe it could get 8 hours with wireless turned off and doing just basic things like reading, but closer to 6 hours max is more likely with typical use. Playing a game like Riptide GP2, a full battery charge only lasts about 2.5 hours total.
Like most tablets, the quality of the cameras is just okay. The rear camera takes decent pictures, better than the $49 Fire, but nothing to write home (or a paragraph) about.
The speakers are surprisingly loud and produce really good sound by tablet standards (which is still pretty poor by any other standard, especially for bass frequencies). The good thing about the speakers is they are located on the edge so they don't get muffled easily, and if you set the tablet flat on a table the sound projects out even louder. I also like how Amazon made it so the volume buttons vary depending on how you're holding the tablet, so that the lower button is always volume down.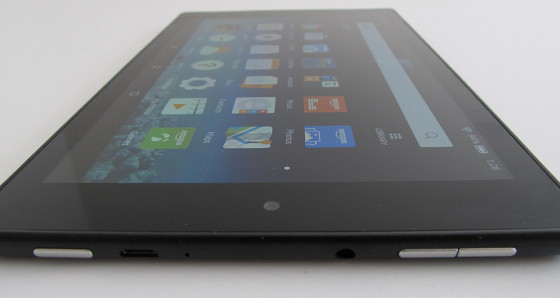 Software
This year's Fire HD tablets run Fire OS 5, which is based on Android 5.0 Lollipop. Fire OS 5 is a step forward. It's the first major redesign of the user interface since Amazon first started making Fire tablets in 2011.
All the main elements still remain, but the homescreen carousel and plain black background are finally gone. The homescreen now displays your list of apps, and the UI has more of a traditional Android feel. The familiar Android home, back, and recent apps buttons line the bottom of the screen.
You can choose a wallpaper image to display on the homescreen. There are several images included and you can set custom images as well. This sounds like a small thing but it's the fist time it has been possible on a Fire tablet.
You can organize apps however you want on the homescreen and group apps by dragging them together to create folders.
Amazon's custom interface still doesn't support things like widgets, and it lacks some advanced settings and options that you'd find on a regular Android tablet, but the new OS is definitely an improvement. Like previous versions, you can still sideload Android apps from outside of the Amazon appstore, so that's a plus.
Fire OS 5 also adds some new accessibility features.
Reading Features
Amazon has added some new reading features to their software over the past year, and they've updated their ebook rendering engine to improve word spacing and add support for advanced typography features like hyphenation.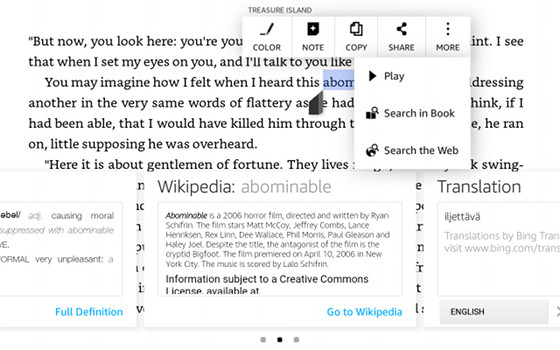 Fire OS 5 has a new speed reading feature called Kindle Word Runner. Here's a separate review showing Kindle Word Runner in action.
The Kindle reading app has a number of features, including the usual notes and highlights, dictionary lookup, instant translations, and search, along with Amazon's advanced features like X-Ray and Word Wise. There's Goodreads integration as well, plus text-to-speech and Wikipedia referencing. There's built-in audiobook playback too.
All the usual book layout option exist—the three line spacing and margin adjustments, and multiple font sizes—along with the new Bookerly font option. There are four background colors to choose from: white, green, sepia, and black. Font choices included Caecilia, Georgia, Palantino, Baskerville, Helvetica, Helvetica-Light, Lucida, and Bookerly.
You aren't limited to just the Kindle reading app on Fire tablets. You can also sideload pretty much any other reading app that you want onto the Fire HD, including ePub and PDF reading apps (the OverDrive app is even available directly through Amazon's appstore).
Google Play Store
Obviously the Google Play Store will never be officially supported on Amazon's Fire tablets. The same goes for Google's apps. You can sideload a number of Google apps, like the Chrome web browser, but signing in with a Google account doesn't work so not all the features work.
However, is it quite easy to install the Google Play Store onto the $49 Fire tablet and the Fire HD 8 and 10. It doesn't even require rooting.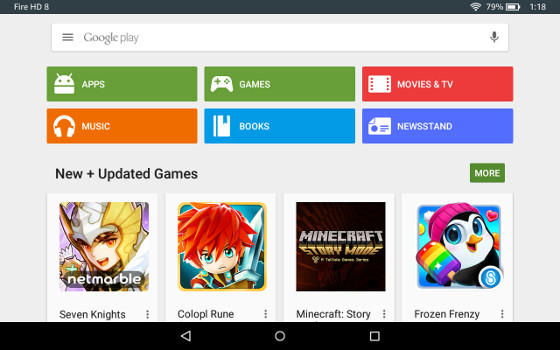 As of this review, I've had no issues running the Play Store and a number of Google apps, including Gmail, Chrome, YouTube, Google Keyboard, Voice search, calendar, Google Maps, the movies/TV app, and Play Books.
The only problem is Amazon could break the easy install method with a future update. They may close off installing the Play Store without rooting entirely; you never know with Amazon…
Additional Reviews
Fire HD 8 Specs
8″ IPS Display
1280 x 800 (189 ppi) resolution
MediaTek Quad-Core processor: 2 @ 1.5 GHz + 2 @ 1.2 GHz
1 GB of RAM
8GB/16GB storage space
MicroSD card slot for cards up to 128GB
720p front-facing HD camera; 5 MP rear-facing HD camera
Dual-band Wi-Fi a/b/g/n/ac
Bluetooth
Dual stereo speakers
Microphone
Accelerometer, gyroscope
3.5 mm stereo jack
Colors: Black, Magenta, Blue, Tangerine
Battery life: up to 8 hours
Weight: 11.0 ounces (311 grams)
Dimensions: 8.4″ x 5.0″ x 0.3″ (214 x 128 x 7.7mm)
Price: $149 and up at Amazon