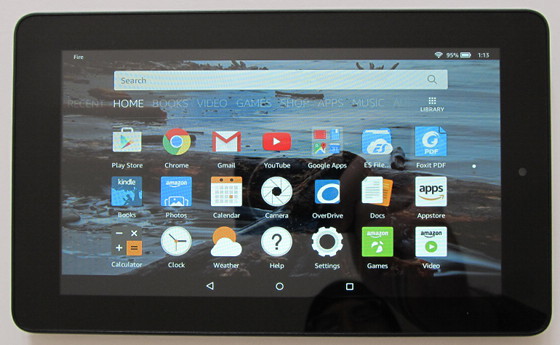 Review Date: October 2015 – Review unit purchased from Amazon
Overview
Last year Amazon was able to get the price of their entry-level tablet under $100 with the Fire HD 6. This year Amazon has managed to cut that number in half with the release of the $49 Fire tablet, making it one of the most affordable tablets on the market.
Amazon simply refers to the device as the Fire, which gets pretty confusing with all the other Fire tablets and devices, so for these reviews it will be referred to mostly as the $49 Fire or 2015 Fire tablet.
Amazon used to refer to their tablets as Kindle Fire, but they stopped calling the tablets Kindles a few years ago.
Amazon released two other models for 2015 as well, the Fire HD 8 and the Fire HD 10. They're also keeping the 6-inch Fire HD 6 from last year around as a current model.
$49 Fire Tablet Review
Pros
Low price.
MicroSD card slot.
Solid build quality.
Good performance—videos and games run smoothly, and the new Fire OS 5 operating system is a big improvement.
Cons
Single speaker gets muffled easily and the sound quality isn't very good.
Below average cameras.
Not optimal for reading because the low resolution screen makes text appear fuzzy and pixelated.
Comes with a 90-day warranty instead of the usual 1-year warranty.
Verdict
There's no question that the $49 Fire is a good tablet for the money. It's well built, it has decent specs, and it runs smooth. It integrates nicely with all of Amazon's services, and as a bonus the Google Play Store can easily be installed for access to even more apps and content (hopefully Amazon doesn't close that off with a future update, though).
There are similar Android tablets in the same price range, but they have names you've probably never heard of, so it's good to see a big company like Amazon offering something on the low end that is a decent tablet.
Price: $49 – $64 at Amazon
$49 Fire Tablet Video Review
Hardware and Design
The 2015 Fire tablet looks and feels like a typical inexpensive Android tablet. The design is ordinary but it feels solid and sturdy and it doesn't make any creaking noises when handled. I already accidentally dropped mine twice and everything held together okay.
It's not nearly as thin and sleek as the Fire HD 8, and the screen isn't as nice, but for $100 less it can do pretty much everything the more extensive model can do.
The screen looks decent with things like videos and games but it's not as bright and colors appear slightly washed out compared to more expensive tablets.
Additionally, the lower resolution screen (171 ppi) isn't as pleasant for reading as other tablets and dedicated ereaders. It's not like it's difficult to read; it's just that text has more of fuzzy, pixelated appearance than higher quality screens.
Considering it's only a $50 tablet, performance is surprisingly good. It has a quad-core processor with a max speed of 1.3GHz, which is 0.2GHz slower than the processor on the Fire HD 8 and 10. Side-by-side there's little to no noticeable difference between them. Things like games, movies, and the web browser run just as smoothly on the $49 Fire.
Unlike the more expensive model, the $49 Fire comes in just one color (black) and one model (8GB). Luckily it also has a microSD card slot for expansion that supports cards up to 128GB. Here's a separate article with more about how microSD cards work with Fire tablets.
Battery life is rated at up to 7 hours. That's one hour less than the HD tablets. But they both seem to be about the same from my tests. 7 hours is pushing the max. It's closer to 5-6 hours with typical use. But that's still pretty good; a lot of cheap Android tablets only get like 3 or 4 hours max.
Most budget tablets have pretty crummy cameras. The $49 Fire is no exception with its VGA front camera and rear 2MP camera. The HD models have better cameras, but they still aren't great either.
The $49 Fire has a single speaker located on the back. It's loud enough to be functional but it gets muffled easily and the sound quality is just okay. As an alternative, it has an audio jack and Bluetooth for using headphones and speakers.
Software
The $49 Fire runs the same exact software as the more expensive Fire HD tablets, so it has all the same features. There are only two differences that I can find. The first is Firefly. The entry-level Fire lacks the Firefly feature that can be used to identify things like movies, music, and products sold by Amazon by analyzing sound or scanning items with the camera.
The second missing feature, and this is a pretty big one, is display mirroring. Unlike the HD tablets, the $49 Fire lacks support for mirroring the display onto a TV or monitor. It only supports Amazon's second screen feature, which is limited to Amazon videos streaming to a Fire TV device.
One of the things that makes the $50 Fire such a good value is all the free content that you can get from Amazon. They have a new Underground Apps section where they giveaway apps for free that are normally paid apps. Lots of free Kindle ebooks are given away each month too, and sometimes audiobooks.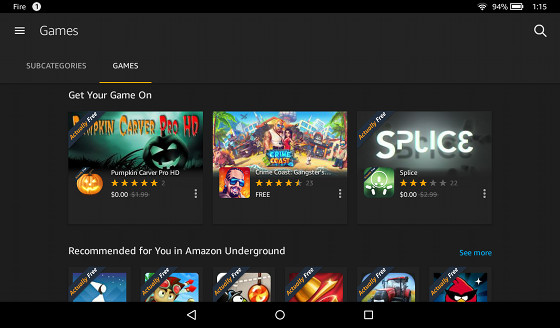 Since the software is the exact same, I don't have anything new to add, so the rest of this review is the same as the Fire HD 8 review…
This year's Fire HD tablets run Fire OS 5, which is based on Android 5.0 Lollipop. Fire OS 5 is a step forward. It's the first major redesign of the user interface since Amazon first started making Fire tablets in 2011.
All the main elements still remain, but the homescreen carousel and plain black background are finally gone. The homescreen now displays your list of apps, and the UI has more of a traditional Android feel. The familiar Android home, back, and recent apps buttons line the bottom of the screen.
You can choose a wallpaper image to display on the homescreen. There are several images included and you can set custom images as well. This sounds like a small thing but it's the fist time it's been possible on a Fire tablet.
You can organize apps however you want on the homescreen and group apps by dragging them together to create folders.
Amazon's custom interface still doesn't support things like widgets, and it lacks some advanced settings and options that you'd find on a regular Android tablet, but the new OS is definitely an improvement. Like previous versions, you can still sideload Android apps from outside of the Amazon appstore, so that's a plus.
Fire OS 5 also adds some new accessibility features.
Reading Features
Amazon has added some new reading features to their software over the past year, and they've updated their ebook rendering engine to improve word spacing and add support for advanced typography features like hyphenation.
Fire OS 5 has a new speed reading feature called Kindle Word Runner. Here's a separate review showing Kindle Word Runner in action.
The Kindle reading app has a number of features, including the usual notes and highlights, dictionary lookup, instant translations, and search, along with Amazon's advanced features like X-Ray and Word Wise. There's Goodreads integration as well, plus text-to-speech and Wikipedia referencing. There's built-in audiobook playback too.
All the usual book layout option exist—the three line spacing and margin adjustments, and multiple font sizes—along with the new Bookerly font option. There are four background colors to choose from: white, green, sepia, and black. Font choices included Caecilia, Georgia, Palantino, Baskerville, Helvetica, Helvetica-Light, Lucida, and Bookerly.
Of course you aren't just limited to the Kindle reading app on Fire tablets. You can also sideload pretty much any other reading app that you want onto Fire tablets, including ePub reading apps (the OverDrive app is even available directly through Amazon's appstore).
This tablet really isn't a good choice for extensive reading because of the low resolution screen; if reading is a big part of the equation you may want to consider a dedicated Kindle ereader or a tablet with a higher resolution screen.
Google Play Store
Obviously the Google Play Store will never be officially supported on Amazon's Fire tablets. The same goes for Google's apps. You can sideload a number of Google apps out of the box, like the Chrome web browser, but signing in with a Google account doesn't work so not all the features work.
However, it is quite easy to install the Google Play Store onto the $49 Fire tablet and the Fire HD 8 and 10. It doesn't even require rooting.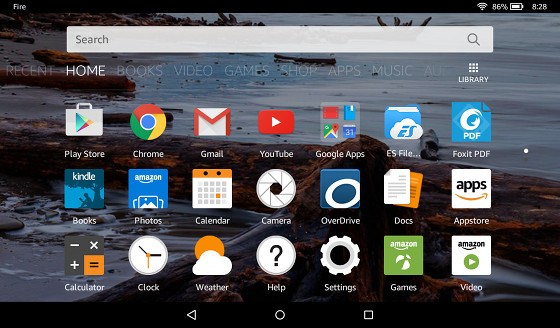 As of this review, I've had no issues running the Play Store and a number of Google apps, including Gmail, Chrome, YouTube, Google Keyboard, Voice search, calendar, Google Maps, the movies/TV app, and Play Books.
The only problem is Amazon could break the easy install method with a future update. They may close off installing the Play Store without rooting; you never know with Amazon…
Additional Reviews
$49 Fire Tablet Specs
7″ IPS Display
1024 x 600 (171 ppi) Resolution
Quad-core 1.3 GHz processor
1 GB of RAM
8 GB Storage space (5 GB available)
MicroSD card slot for cards up to 128GB
VGA front-facing camera; 2 MP rear-facing HD camera
Single-band Wi-Fi b/g/n
Bluetooth
Mono speaker
Microphone
Accelerometer
3.5 mm stereo jack
Battery life: up to 7 hours
Weight: 11.0 oz. (313 g)
Dimensions: 7.5" x 4.5" x 0.4" (191 x 115 x 10.6 mm)
Price: $49 at Amazon