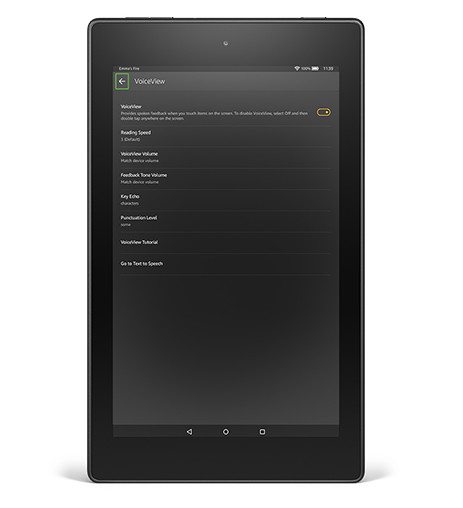 Amazon's new line of Fire tablets get released next week, and with their release comes a new operating system called Fire OS 5, aka "Bellini".
The updated software adds some new features like Kindle Word Runner, the new speed reading tool.
Fire OS 5 also adds a few new accessibility features to Fire tablets for people with vision and hearing problems.
Among them is a new VoiceView feature that reads the content of the screen aloud and describes the actions that take place on-screen using IVONA text-to-speech voices, similar to the Speak Screen feature on iOS.
Another new features lets users setup quick gestures to easily navigate to the homescreen, go back, and access notifications.
Large font mode increases font size system wide, and it's been expanded to include more areas of the user interface. Web browsing has been optimized too, and earcon sounds have been updated for Fire OS 5.
Other accessibility features for Fire tablets include support for braille using Bluetooth braille displays, there's a screen magnifier to zoom in on any part of the screen, there's a high contrast setting, and closed captioning for videos.
An automatic software update to Fire OS 5 is going to be released for last year's Fire tablets too, but older models beyond that probably won't be updated (no official word yet).