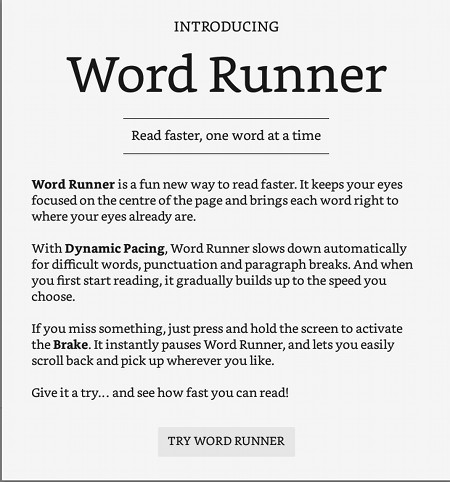 With the release of the 5th generation Fire tablets—the $49 Fire, the Fire HD 8 and Fire HD 10—Amazon has introduced a new speed reading feature called Kindle Word Runner.
I don't think that most people will be interested in using the new feature much, mainly because it's a completely new way of reading. It takes some time to get used to, and it's actually quite unpleasant at first.
The way Kindle Word Runner works is it shows just one word at a time in the center of the screen.
You can fine-tune how fast the words cycle between 100 and 900 words per minute, and you can slow down to rewind and move forward by sliding a finger on the screen forward or back. Plus there are arrows to jump forward and back by sentences.
The speed of words automatically slows down for punctuation and page breaks.
If – you – have – the – speed – set – too – slow – reading – is – awkward – and – it's – hard – to – get – in – the – flow.
But once you get the speed adjusted just right the stuttering pace starts to flow into smooth reading and you start to get lost in the story and forget the new way of reading.
It's an interesting thing, really. It's kind of like having the words beamed directly into your brain. Not moving your eyes to read is just so weird. Word Runner takes something you've been doing your whole life and changes it. I don't know if I can get used to it, but I can see the usefulness and innovation in it.
Word Runner is one of those things you just have to sit down with and try yourself. It's a very individual experience whether or not you'll like it or not.
At the end of each chapter, Word Runner stops and displays your reading stats to show how many words per minutes you can read, and compares it with your regular reading speed, along with an estimate for the next chapter (provided chapters are setup correctly; I was testing Treasure Island and it wasn't formatted properly for Kindles to recognize chapters so it gives no stats).
A couple of other details: Word Runner only works in portrait view, and it's not available for all books and doesn't work for sideloaded ebooks, even if you send/email them to your Kindle account.
The idea behind Kindle Word Runner isn't new. There are other ebook apps such as ReadMe that use the same concept.
There's a company called Spritz that has been working on this kind of reading technology for the past 3 years. The claims are that it is supposed to reduce eye strain and improve word recognition and reading speed.
In addition to Fire tablets, Kindle Word Runner will be coming to the Kindle for Android app as well. But don't expect it to ever come to Kindle ereaders because it just wouldn't work well with E Ink. There would be too much ghosting at high speeds.
Kindle Word Runner Video Demo