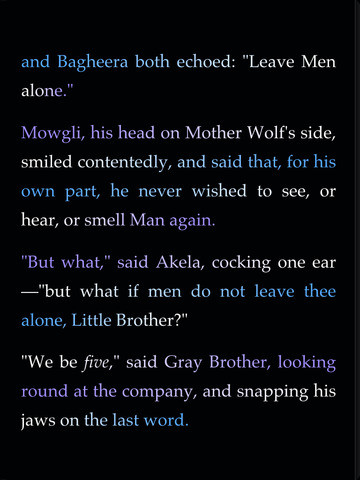 ReadMe! is an ebook app for Android and iOS tablets and phones. It supports ePub format, and what makes the app different is it offers two different speed reading tools.
ReadMe! is the first app to incorporate BeeLine Reader, which uses colored text to help guide your eyes from one line to the next.
BeeLine Reader claims the effect of using a color gradient to guide your eyes helps people read faster and with less eyestrain.
Apparently BeeLine Reader is popular in schools. The technology has won awards from Stanford University and Dell Education.
The other speed reading tool that ReadMe! offers is called Spritz. It's basically the same exact thing as Amazon's new Kindle Word Runner feature (I hadn't seen this before but it's clearly where Amazon got the idea from).
Spritz works by streaming text one word at a time in the middle of the screen. It helps to minimize eye movement and increase reading speed.
The ReadMe! app is free to download from Google Play and iTunes. The apps also offers some additional syncing features that require the purchase of a subscription.
Below are a couple of videos showing how the BeeLine Reader and Spritz speed reading features work.
ReadMe! Demonstration (Spritz)
ReadMe! BeeLine Reader Demo