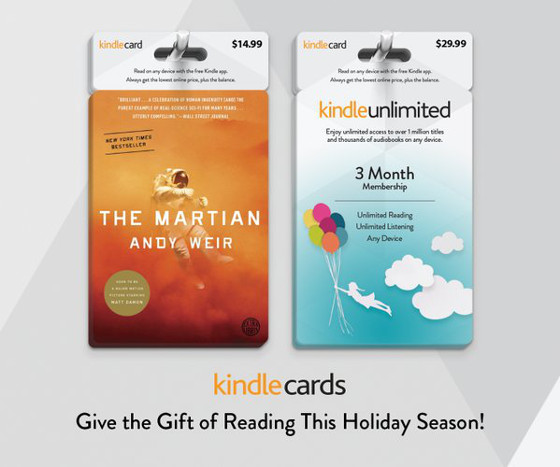 I came across an interesting help page at Amazon the other day that describes a product that I never heard of before: Kindle Cards.
Apparently Kindle Cards are as rare as unicorns because I can't find a shred of information about them anywhere outside of the help article. Using Google search pulls up one single relevant hit of a tweet posted one month ago, which seemingly contains the only known image of these so-called Kindle Cards.
The reason why they are so rare is they're currently only sold from a few select Bartell Drugs retail stores located in Washington state.
Perhaps Amazon is doing a limited sample run before they decide to start rolling them out to other retail chains.
Basically Kindle Cards are gift cards for specific ebook titles. The cards display the cover image of the book, along with the book's description and activation instructions.
They also have Kindle Cards for Amazon's ebook subscription service, Kindle Unlimited.
There are a couple of interesting details about how they work. First off, they are priced the same as the ebook copy, of course. But if the ebook price happens to go down from the time of purchase, the remainder of the balance gets credited to your account.
Additionally, Kindle Cards can be redeemed as regular Amazon gift cards if someone gives you one and you don't want to get stuck with the ebook title listed on the card.
Kindle Cards are the one way to get ebooks into physical retail stores and in front of customers' eyes. But you have to wonder if people will be willing to buy a card when they could just pickup the physical paper book instead, especially when it comes to gifting. Giving and getting a card isn't quite as satisfying as a real book.
There are other ideas like this out there. Livrada started selling ebook gift cards for specific titles back in 2012, but I haven't heard much about it since them. The concept of individualized ebook gift cards hasn't really taken off yet.