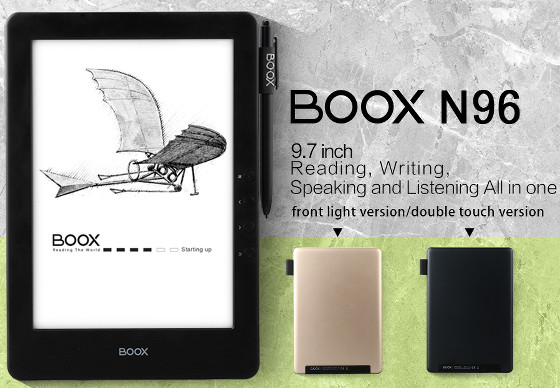 Onyx has a couple of new 9.7-inch E Ink ereaders that are getting set for release soon, the Boox N96 and N96ML.
The funny thing about them is they are basically the exact same as the Onyx Boox M96, except they have a new design and a few upgrades.
There are two versions of the N96. One has an electromagnetic touchscreen with a frontlight (N96ML), and the regular N96 has a dual-touch touchscreen and no frontlight.
The dual touch model has an electromagnetic touchscreen for accurate stylus use and a capacitive touchscreen for finger touch.
Both devices run Android 4.0 and have 1GHz Cortex-A9 processors, and both have the same 9.7-inch E Ink Pearl display with a resolution of 1200 x 825, so in those respects they are the exact same as the M96.
The lack up upgrades in terms of hardware is kind of a bummer. The addition of a frontlight is the only major change, and the option for dual touch. Otherwise these models are almost identical to the M96.
The main difference is the overall design has changed (and they got rid of the colored tabs the first time we saw the Boox N96). The N96 has an aluminum alloy shell, which should be a lot nicer than the cheap creaky plastic on the M96. The N96 is also quite a bit thinner and lighter.
Another change is the internal memory has been bumped up significantly to 16GB. As far as RAM, the N96 is listed at 512MB and the N96ML is listed at 1GB. Both models support microSD cards up to 32GB.
Other features include physical buttons, Bluetooth, support for audio and recording. Battery life is rated at up to 4 weeks with the 3000mAh battery.
You can find more info and pictures of these two new devices on the Boox N96 product page on Onyx's website. So far there's no word on a specific release date, but there's already a page up on Alibaba.com for the N96 except the minimum order is 2000 units.