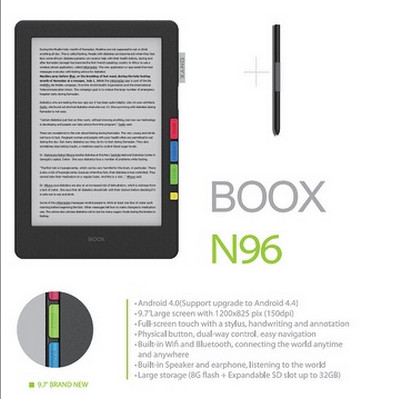 It looks like Onyx is getting set to release a new ebook reader or two, and maybe a new E Ink phone, soon.
The folks at Onyx posted some pictures of the Onyx International booth at the Taipei Electronics Show for 2015.
It looks like they have a number of different devices on display, and some new product numbers to try and decipher.
The most interesting of the lot is the Onyx Boox N96, not to be confused with the Boox M96 that was released last year.
The N96 isn't listed on Onyx's website yet but there's a spec sheet and a picture of it on the Computex website.
The N96 doesn't really make much sense. The specs and features are basically the exact same as the M96.
The only difference between the M96 and N96 appears to be the design. The N96 has some strange multi-colored physical buttons and a new casing design with a bigger bezel below the screen. So far the N96 is rather perplexing; hopefully someone will upload a YouTube video showing it in action soon. There's got to be more to it than meets the eye.
Other E Ink devices on display in the pictures include the Boox M96 (so apparently it's not getting replaced by the N96), the new 8-inch Boox i86 Plus with frontlight that was just released this month, and there are a couple of devices with numbers that don't really make sense based on previous models, the Boox T76 Plus and Boox D67, which look like the T68 and Boox C67ML. There's also a picture of an E Ink phone, so maybe Onyx is going to release a new phone soon as well (I don't know why they would considering their last one was a major flop).
Onyx Boox N96 Specs
Android 4.0 (support upgrade to Android 4.4).
9.7 inch large screen with 1200×825 pixels (150dpi).
Full screen touch with a stylus, for handwriting and annotation.
Physical button, 2 ways control page turn, easy navigation.
Built-in wifi and Bluetooth.
Built-in speaker and earphone.
Large storage(8G Flash Expandable SD slot up to 32G).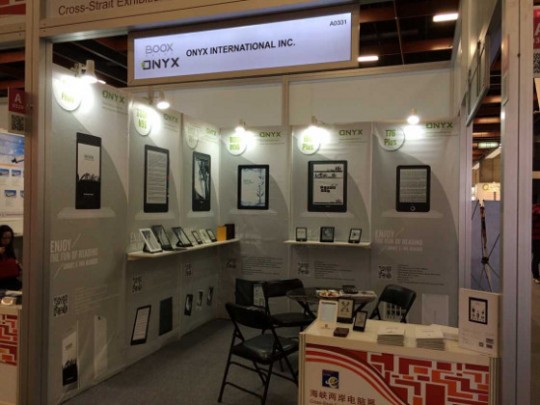 via: MobileRead